Factcheckers have an important role in democracies as a support of an independent press. However, in the case of Pesacheck this has completely gone wrong.
Let's start by five important government hoaxes that Pesacheck did not want to check: https://diaspora.nup-uganda.com/?p=445
Announcement of 189 al-Shabaab fighters killed in Somalia
On 27 Dec Kasirye Ashraf was shot in the head by security forces
Lumbuye to return to Uganda
Fake Declaration of Results form posted by Electoral Commission (at bottom of this article)
New Vision falsely announced that Eddie Mutwe is going to marry.
and most recently
6. Museveni tweets in December 2022 about snowy Rwenzori mountains but showing New-Zealand mountains, and Pesacheck ignores it!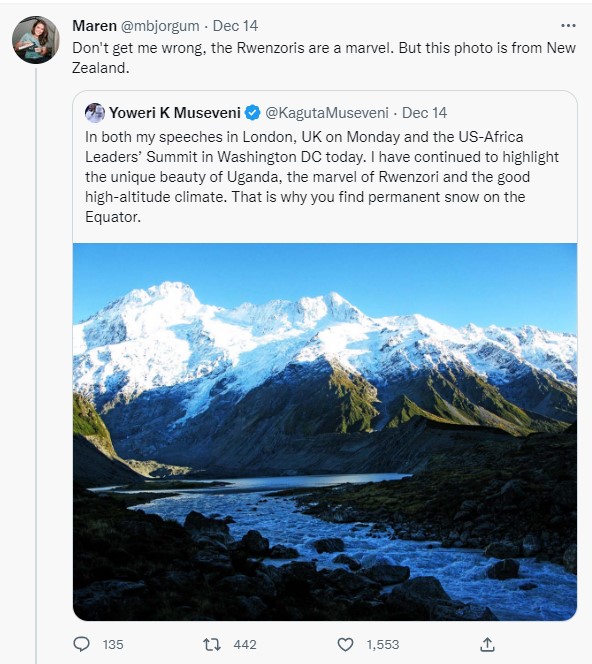 Then we have an overview of Ugandan factchecks did do but went wrong.
For international readers that do not know the Ugandan situation it might help to look at some International factchecks
11. On May 13 2022 Pesacheck reported: PARTLY FALSE: Two of these images are not related to Russia's recent attack on Kyiv I discussed this with Dutch journalist and factchecker A Pleijter and he was critical of the Pesacheck conclusion since the two photos are evidently stock photos.
This is just the tip of the iceberg, on our Twitter account @nup_diaspora there are many more Pesacheck factchecks being analysed. Some are good, many are incomplete or wrong.
To summarize we see that many (Ugandan) Pesacheck factchecks are
Not timely. In many cases the factcheck was published when the checked item was no longer relevant. In two cases the factcheck was done half a year respectively a year after the event.
Not reflecting both sides of the story, not applying 'audi alteram partem'.
Missing important context.
Some are
Not understanding humor & parody.
Reading like government propaganda.
Containing logical flaws.
And what is worst, important dis-information by the Ugandan government is not factchecked.
Pesacheck should take the example of the Continent, who did a check on a Social Media post by the Ugandan Electoral Commission showing that their results form appears to prove electoral fraud.