When a screenshot of a Muhoozi tweet was shared on Social Media it was pretty clear to many it was fake. However, even some reputable websites claim it was deleted. Therefore we did an analysis.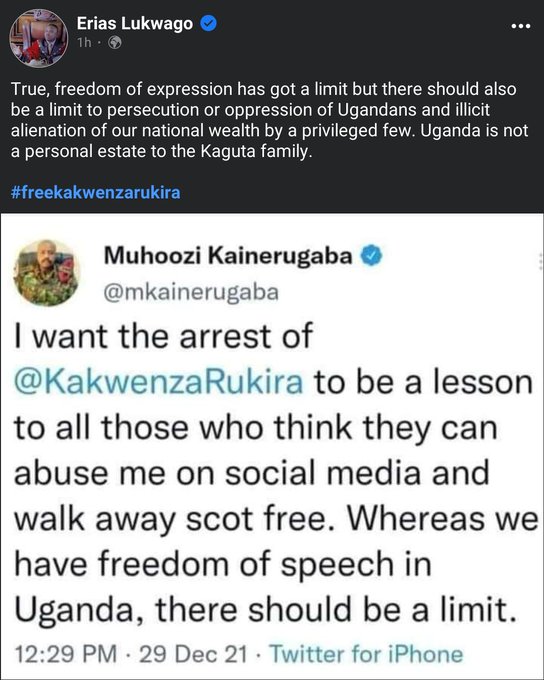 The tweet says Kakwenza's freedom of speech is also limited. Muhoozi has made quit a controversial and dumb tweets in the past, but never did the post anything that incriminates him. If Kakwenza is tortured, as we fear is happening, this tweet would internationally be regarded as admission he's behind the arrest. To the contrary, the Museveni family has been very good in removing from internet any evidence that he has a drinking problem, that he is a womanizer, and that Janet Museveni is not his mother.
Facts
First all the facts, taken at January 1st 2022:
We did an advanced Twitter search with search terms: (to:mkainerugaba) until:2021-12-30 since:2021-12-28
On 29 December approximately 825 reply tweets to tweets by Muhoozi were posted. That day, Muhoozi retweetet his alleged mother Janet and some others, but we focus on the tweets which he composed himself.
He tweeted 10.29 AM a Samuel Jackson quote, which got 218 replies in total, 265 retweets and 1795 likes.
He tweeted 12.04 PM CET about his time in Sudan, which got 480 replies in total and 463 retweets and 2761 likes.
He tweeted 2.02 PM CET about being a captain in Egypt, which got 212 replies in total and 289 retweets and 1801 likes.
Not all of these replies were on 29 December, some were later, so it's likely the total exceeds 825. Furthermore there are replies to tweets that Muhoozi retweeted.
For the 3 tweets composed by Muhoozi that can be found on twitter.com, the retweets/replies ratio is approximately 1, the likes/retweets ratio in the range 6-9. This means there are 6 to 9 more likes than retweets.
According to the screenshot it is taken 12.29 PM, but it doesn't specify a timezone. It has 83 retweets, 11 quote tweets and 415 likes.
The screenshot that we are analysing is tweeted at 1.19 PM by @CashNtulume. It replies to the Samuel Jackson tweet, which is suspicious. It doesn't mention any deletion either.
Another screenshot is posted at 2.12 PM by @chief_amen. It replies to the Egypt tweet of 2.02 PM. The screenshot is of a post by Kampala lord mayor Erias Lukwago. This is the image shown above.
We also found a tweet at 1.27 PM by NRM fan Mbaho Joshua labeling the screenshot as fake. Joshua doesn't mention were he found the screenshot.
We then looked at Facebook. At 1.05 PM CET Erias Lukwago posted the screenshot that later appeared on Twitter.
At 2.16 PM Abubakari reported the screenshot as fake, but many others also reported it. However, Erias kept the post online.
Analysis & conclusion:
We conclude that the screenshot is fake for the following reasons:
The screenshot shows 83 retweets. Since the normal retweets/replies ratio is 1 we should expect to have some 80 replies. Based on statistics, the change of having 0 replies is 0%. When a tweet is deleted, the replies are not deleted. However, we have not found ANY replies to a deleted tweet by Muhoozi. These tweets would have shown 'This tweet was deleted by the tweet author'.
The Facebook post by Erias Lukwago was made at 1.05 PM. Many reactions were posted even before the first tweet mentioned the bad tweet by Muhoozi or a screenshot. If the tweet had really been online, it would have started to distribute through Twitter before it came to Facebook.
The message of the Tweet does not fit with the tweeting style of Muhoozi.
Fake tweets of Muhoozi have been published before. See below