Museveni must stop torturing Kakwenza Rukirabashaija. Dear Ugandans, those who may not know who Mr. Kakwenza is, he is a great Ugandan novelist who is one of the critic writers of Museveni's government. He has been perpetually arrested and badly tortured because of using the might of a pen as his great weapon in the search for change in his motherland Uganda.
Fellow Ugandans, we have to fight tooth and nail to protect people like Kakwenza and many others like him who have unequivocally stood out to boldly fight for change.  Museveni is using the most respected seat of our country to make sure that he intimidates and also humiliates freedom fighters to prevent them from fighting for their country.  So, when I read the two articles about Mr. Kakwensa that were published On 9th and 5th Jan 2022 as portrayed by the links at the end of this article, I also decided to write an article that is intended to encourage all journalists, freedom fighters, and all Ugandan citizens not to lose courage in the struggle. Let us not be intimidated by Museveni, bearing in mind that freedom of expression and the media are key tenets of democracy, and above all, it is our constitutional right.
Dear Compatriots, who are in the struggle, let us continue exposing Museveni using any means of communication not only in Uganda but also outside the country so that the entire world can get to know how dangerous vampire Museveni is. Museveni is trying his level best to silence people like Kakwenza. Despite the fact that he has faced state harassment countless times he has never lost track. My humble request is not to disappoint him. Let us, therefore, continue emulating his example. He and many of us who want a new Uganda have to be determined to work hand in hand to change the political situation in Uganda.
As I stated in the title that Mr. Kakwenza is not a criminal, of course, he is just an intellectual brave man who has his country at heart. Therefore, I want to advise bloodsucker, Museveni, that it would have been in order to imprison people like Blaise Kamugisha and those that are not mentioned but known by the public who are behind the killings of innocent Ugandans. It is said that a careless word may kindle strife, a cruel word may wreck a life, a timely word level strew, a loving word may heal and bless. It is so sad to remind Ugandans that, once the head of crime preventer Blaise Kamugisha who is in the photo below, was heard openly saying in broad daylight that, he and his fellow henchmen can kill for the president! (https://twitter.com/mugisha82614563 )In countries where democracy thrives, Blaise Kamugisha would have been arrested, to be charged for uttering careless and cruel words. But it surprises that up today, Ugandan security has ever mentioned arresting that used Idiot (Blaise Kamugisha). The question is; People are arrested in Uganda for spreading hatred. When will Blaise Kamugisha be charged in a court of law?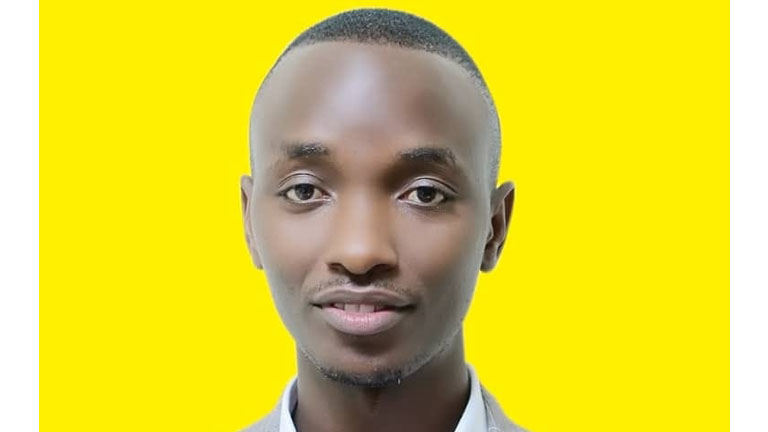 It is so heartbreaking to mention that a number of educated Ugandans have held their brains for money which Museveni bribes to keep silent and nothing good can be heard from their brains to solve Uganda's political dilemma.  Many of them are in high positions of responsibility but they cannot come out to talk about the way how the government violates Mr. Kakwenza's rights and many other journalists. Let us have one voice and say to Museveni that enough is enough because it has become a normal thing in Museveni's regime for Ugandan Journalists to Face physical danger and Psychological harm while executing their duties
Brothers and sisters, let us have one voice and say to Museveni that enough is enough because it has become a normal thing in devil Museveni's regime for Ugandan Journalists to Face physical danger while doing their jobs.  A plethora of cases related to abuse and violations against journalists have always been documented but unfortunately, the government has not taken any serious measures to stop what Ugandans journalists go through. It is really so sad to see that, the government which would have to ensure the safety of journalists while on duty, has instead deliberately continued targeting journalists.
My fellow freedom fighters, we have to work hand in hand to create avenues geared to the protection of journalists and all other freedom fighters because both; Uganda Police and Military brutality against Journalists in Uganda are failing them to perform their work independently. Museveni has continuously ordered Ugandan security forces to harass as well as to attack journalists. That has caused the work of being a journalist in Uganda to become an unacceptably dangerous job in the country despite constitutional protections. It is so perplexing to witness in our motherland that even if journalists are clad in identifiable press jackets, the used idiot security officers have the powers to shoot aimlessly at them like a baboon armed with a loaded gun. I really wonder about the type of training security personnel in Uganda receive because what they do simply depicts that they are ignorant about the African Commission on Human and Peoples' Rights, which stipulates clearly in Article 9 that;
"Every individual shall have the right to receive information."
"Every individual shall have the right to express and disseminate his opinions within the law." (https://www.achpr.org/legalinstruments/detail?id=49 )
Dear Mr. Kakwenza and all other freedom fighters, I wish to conclude this article, by urging you not to lose hope. Remember a journey of a thousand miles starts with one step. Fellow political activists, we have faced all kinds of humiliations both in and outside Uganda, it is therefore the time to consider the fact that we have to finish the journey of the revolution we started if we want to have a better Uganda for future generations to come.
https://amp.theguardian.com/world/2022/jan/09/pen-prize-winning-ugandan-novelist-kakwenza-rukirabashaija-illegally-detained-and-tortured
https://www.aljazeera.com/news/2022/1/5/detained-ugandan-satirical-novelist-tortured-in-custody-lawyer
WRITTEN BY,
FRANCIS KASIBANTE. FOR GOD AND MY COUNTRY.