As earlier election periods in Uganda, the last months were full on insecurity and state intervention. Delving into the elections where Dr. Kizza Besigye run against Yoweri Museveni in 2001, 2006, 2011, and 2016, showed us that state violence & abuse of judiciary during elections is a common phenomenon in Uganda. In particular, in the 2016 elections, Dr. Kizza Besigye won the popular vote with 52%. But the moment his party, the Forum for Democratic Change (FDC) declared their results, their headquarters at Najjanankumbi was raided by the Uganda Police. All computers were confiscated, and all in the tally center arrested. Dr. Kizza Besigye was put under arrest for 90 days, and charged with treason. The day after the elections, the streets of Kampala were silent. The people mourned the death of democracy and faced the harsh reality that they were ruled by the gun. This frustrating experience led to the rise of Bobi Wine.
2016 EU recommendations
After the 2016 elections, the election observer mission from the EU made the following recommendations, of which none were implemented. Furthermore, for the 2021 elections, the EU observers were not invited. The mission from USA was also hindered, who had to abort the mission. The Ugandan government gave a strong signal that it wanted no foreign observation.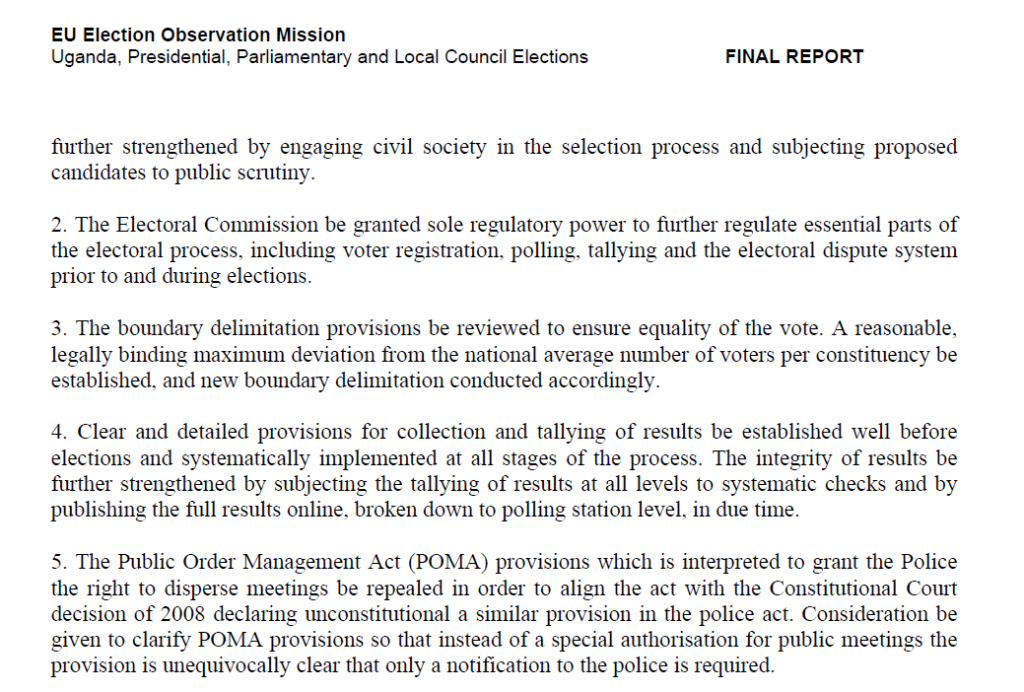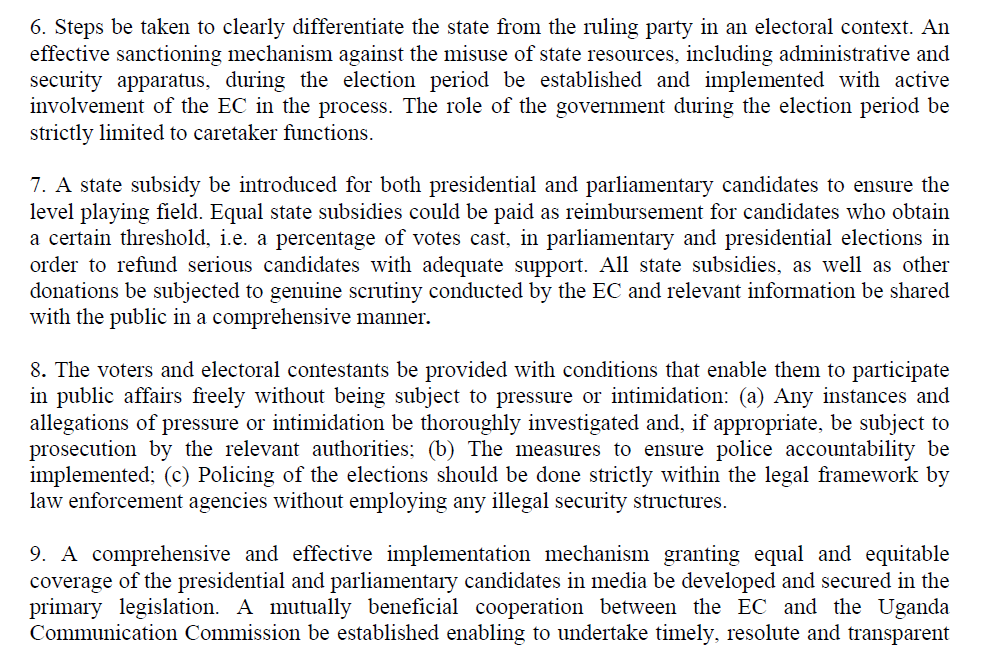 Several weeks before the elections, many journalists and observers were expelled from Uganda. From the beginning to the end of the election process, there was no clear distinction between the NRM party, and the state. As recommended by the EU observers in 2016, government should not be used for campaigns, but it would play a crucial role during the campaigns. Remaining journalists would remain mainly confined to Kampala.
Surveys
In preparation of the 2021 elections on January 14, several surveys by Dr. Schoonderwoerd were taken to gain insight in the expected results during voting. In these results, Bobi Wine started to take a lead over Museveni, especially when violence was used by the state during campaigns. With every act of violence against opposition, the popularity of Museveni lowered.
The survey also asked if Ugandans expected the election to be honest. 58% indicated No, 35% said Yes, the remaining 7% didn't know. A big majority of Kyagulanyi voters don't believe in honest elections, but also a small part of the Museveni voters. This is reflected by a small survey on twitter among Ugandans on January 26.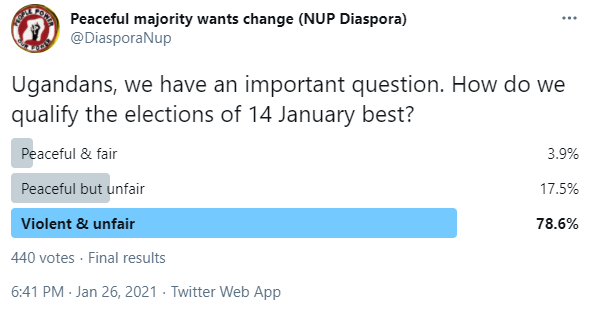 In these surveys of Dr. Schoonderwoerd respondents had the opportunity to answer some other questions.
Dr. Schoonderwoerd concluded with the following analysis:
This survey shows that life in Uganda for our respondents has become more difficult in the last 5 years, and they have seen corruption increasing. Education is also worse. Health care is perceived as the same. Although most do not expect an honest election, a big majority is planning to vote. The biggest wish of the respondents is change, and they expect to find this with their votes on new opposition leader Robert Kyagulanyi (61%). Even many of those voting Museveni (34%) are asking for change. Statistics give a probability of 97.5% to Kyagulanyi having the majority of the votes. The support for Kyagulanyi is consistent among males and females, and those living in urban and rural areas. Most Besigye voters in 2016 are now voting Kyagulanyi. Two thirds of the Museveni voters from 2016 stick to their favorite. But the new voters, in overwhelming majority, vote for Kyagulanyi. If these young voters will show up in the polling stations then the change they are asking for might indeed be realized.
This was reinforced by a different survey conducted by Market Intelligence Group (MIG).
Nomination Day
Although the state has tried to harass the opposition for the last decades, we will limit our time frame to the current election period. This started several days before the nomination day of presidential candidates. NUP had raised funds and signatures for nomination of Members of Parliament, and the presidential candidate Robert Kyagulanyi. NUP had collected 6 million signatures of support for the presidency of Kyagulanyi. NUP had also collected 117 million Uganda shilling to pay for the nomination of candidates throughout the country. Several days before the deadline of for nomination the president, dozens of armed soldiers and police raided the headquarters of NUP and confiscated the signatures, 23 million shillings, and other belongings.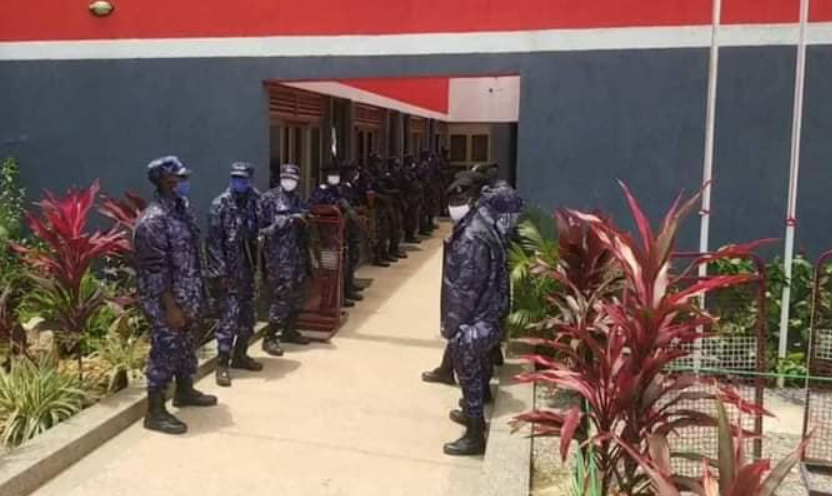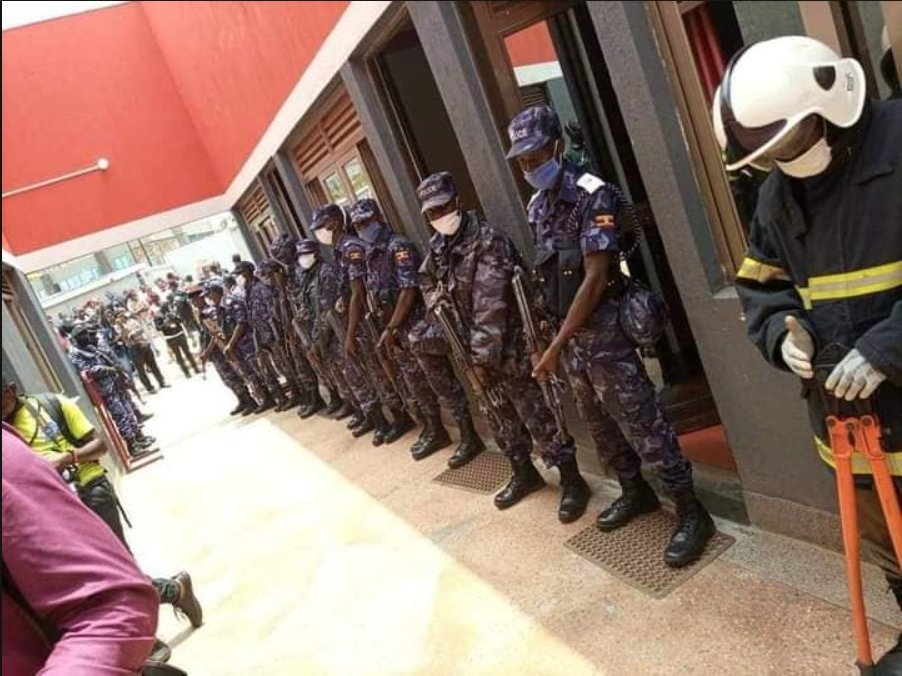 Although NUP directly communicated to its branches to start collecting new signatures to secure nomination, it gave a clear signal of state harassment. On nomination day Kyagulanyi (NUP) and Patrick Oboi Amuriat (FDC) were intimidated, arrested, and manhandled by Uganda Police.
Kyagylanyi was arrested after he had submitting his nomination days, and placed into a van for three hours, while police violently dispersed supporters waiting at the home of Kyagulanyi. In this van, he was tortured. Police sprayed him with tear gas, placed hot metal in his hands, and beat him. His arrest from his police was recorded.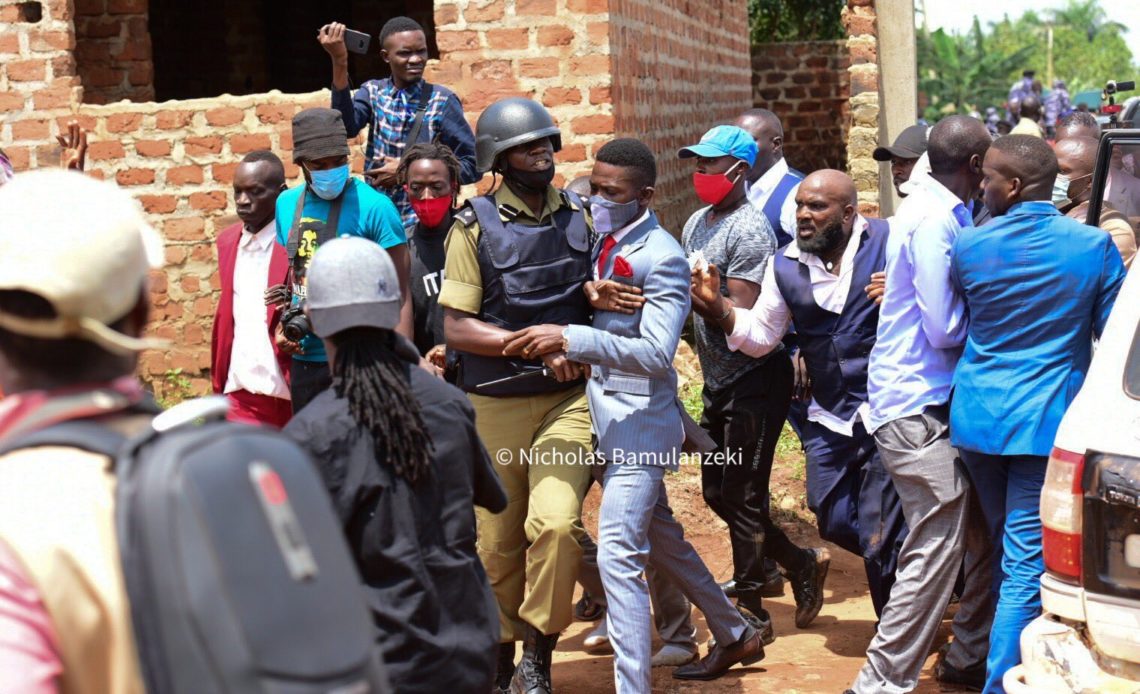 Campaigns
The election campaign were marred with extreme violence. Patrick Oboi Amuriat was arrested 13 times, and taken to court 3 times. 5 Members from his team were arrested 4 times. At December 28, a can of pepper spray was emptied in the face of Amuriat in Tororo district. The election team of Amuriat claims that they were confronted by teargas every day during campaigns.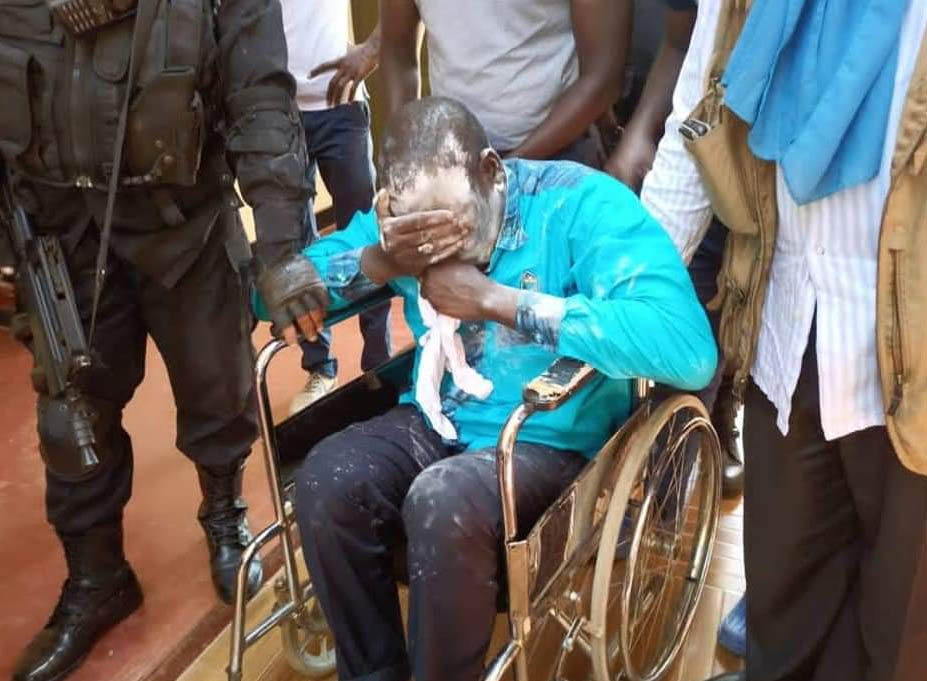 Kyagulanyi was constantly harassed, and supporters beaten by the Ugandan Police Forces, but also soldiers from the military. These security forces used the excuse of covid-19 to prevent people from gathering
However, this policy was used only against opposition candidates. Wherever president Museveni went, there was no such harassment. The Electoral Commission remained silent on the issue, signaling that it was not an independent organ, but influenced by the state.
Arrest Bobi Wine
On 18 November, Kyagulanyi was arrested, pepper sprayed, before thrown into a van. Security forces started to shoot live bullets on citizens that protested against the arrest. Local Defense Units (LDU's) which were deployed in the cities, started shooting at any citizen with NUP symbols. The Uganda Police claimed that 54 citizens were killed, many innocent bystanders. Eye witness count claimed that around 90 citizens were killed.
https://edition.cnn.com/2020/11/23/africa/ugandan-protest-death-toll-intl/index.html
In the video, soldiers are patrolling the streets. A women who is filming, is shot at.
https://www.videoman.gr/en/168749
After the release of Kyagulanyi, campaigns continued, with increasing violence by the state against opposition activists and supporters.
A grenade was thrown to Kyagulanyi, who started a helmet and bulletproof vest afterwards. In several incidents, Police fired live bullets at the vehicle of Kyagulanyi. https://fb.watch/3nlqLPy9MF/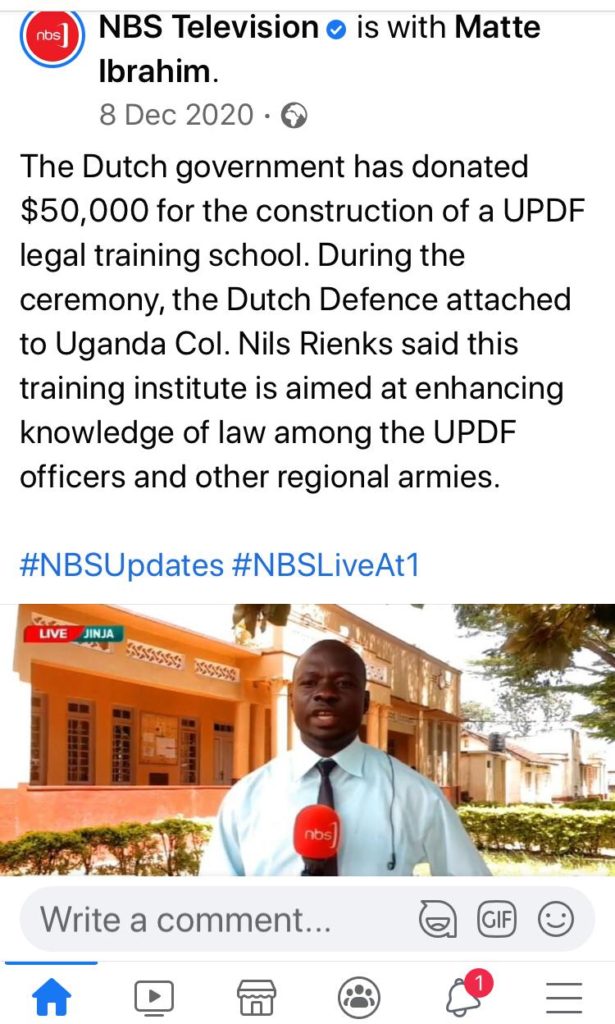 On 11 december, 27 team members of Kyagulanyi were arrested, while journalists were beaten. The team was prevented to access a hotel, and had to spend the night on the roadside in or around their cars.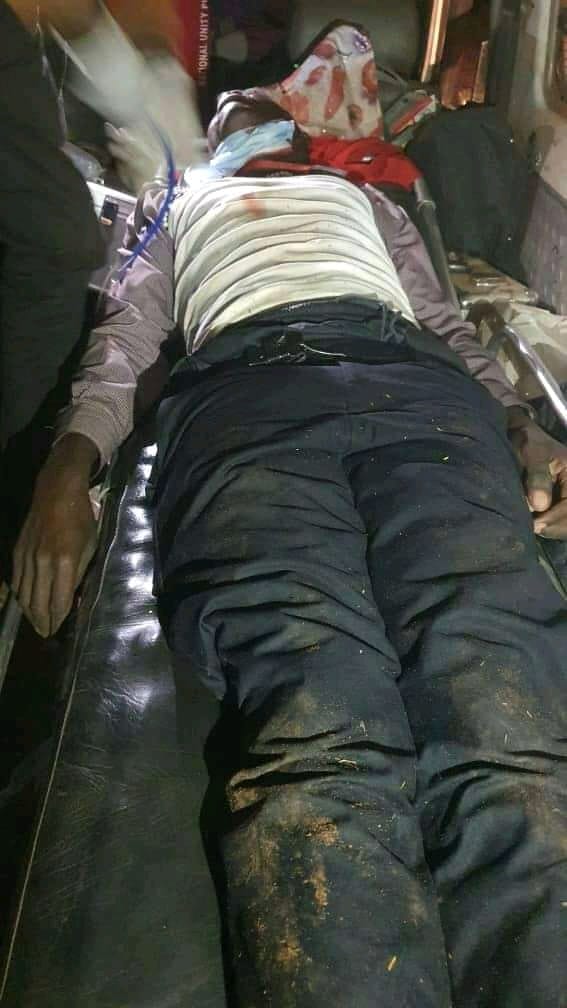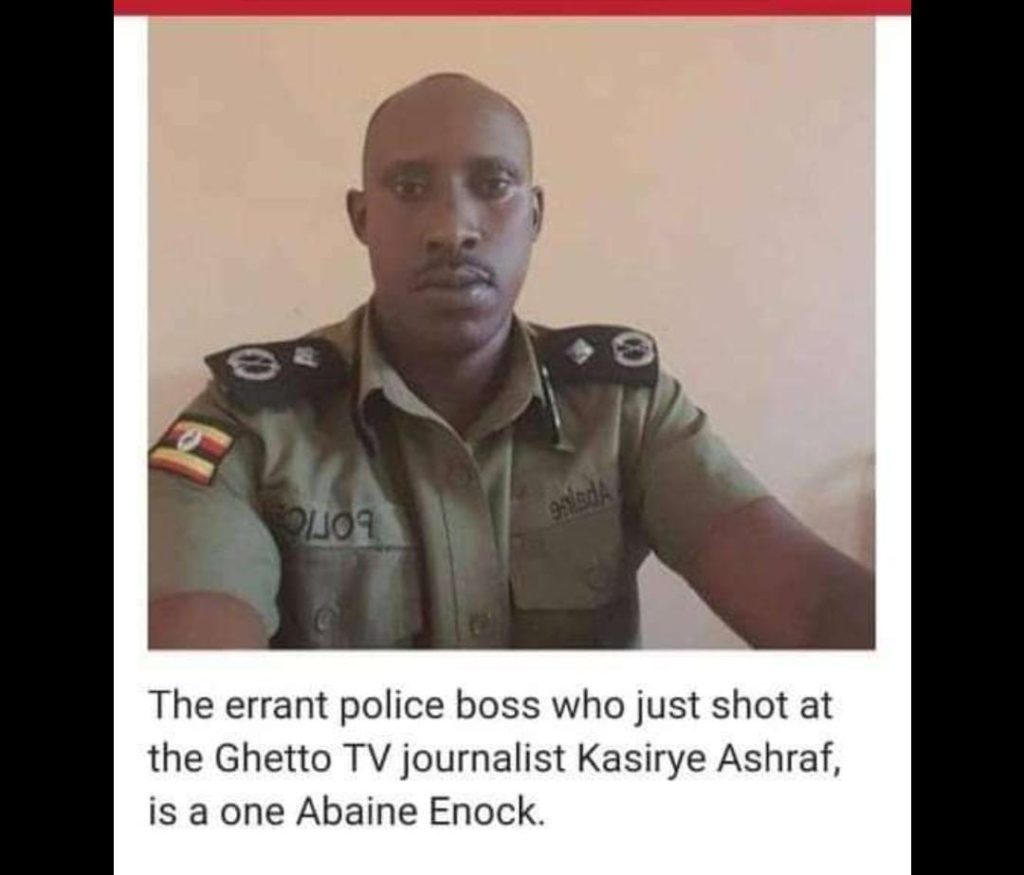 On 1st of Januari, 20 members of the team were arrested and detained at military barracks in Masaka. Over 40 other members were in detention at Kalangala. Information was transferred from prison that these members were tortured.

The dictatorship arraigned 48 campaign team members (including Nubian Lee, Eddie Mutwe, Dan Magic, Bobi Young, etc) before the General Court Martial at Makindye and charged them with illegal possession of ammunition. Lawyers and family members of the comrades were all denied access to the court. The judiciary was used in state interests.
12 January. Joint Press Conference
On 12 January, several presidential candidates and Dr. Kizza Besigye come together to have a joint press conference, denouncing the violence used by the state, and their united action in case of rigged elections.
https://www.facebook.com/ghettomedia1/videos/764102577531775/?cft[0]=AZUjyTqLmALhufePvSAlyuWwRgXTQ-UItnZB3RPkdRS5wxPkUB2DkTDyOKFE_60VdbpHOWYbSJ7h0_a4FJdptdIMCYFv08lYHFP57uX-OEtfV5c59r28yOVYnUWo1c0-B93uxDT8K3H3imzq8YwwjiPBoa2LxxTMPjeVBg6czZxn6w&tn=-UK-R
13 January. Internet Shutdown
Several days before the election, the internet was shut down to prevent the world from being able to see what was going on. International observer missions from EU and USA were cancelled due to blocking of the Ugandan government. Most journalists were in central Uganda, were it was relatively calm. In Western and Northern Uganda, however, massive force and rigging was used. Embassies were given state VPN, who blocked them completely from any information other than the one from the Ugandan government.
14 January. Election Day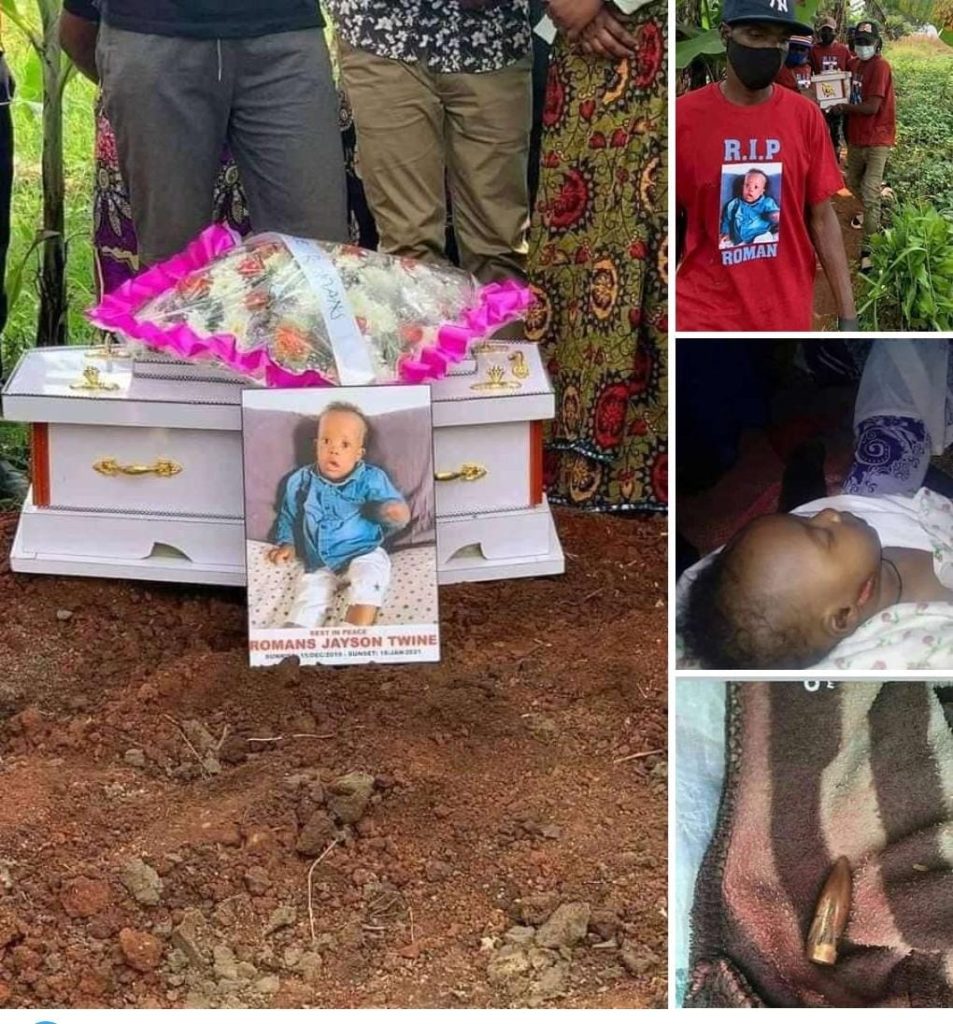 Election Fraud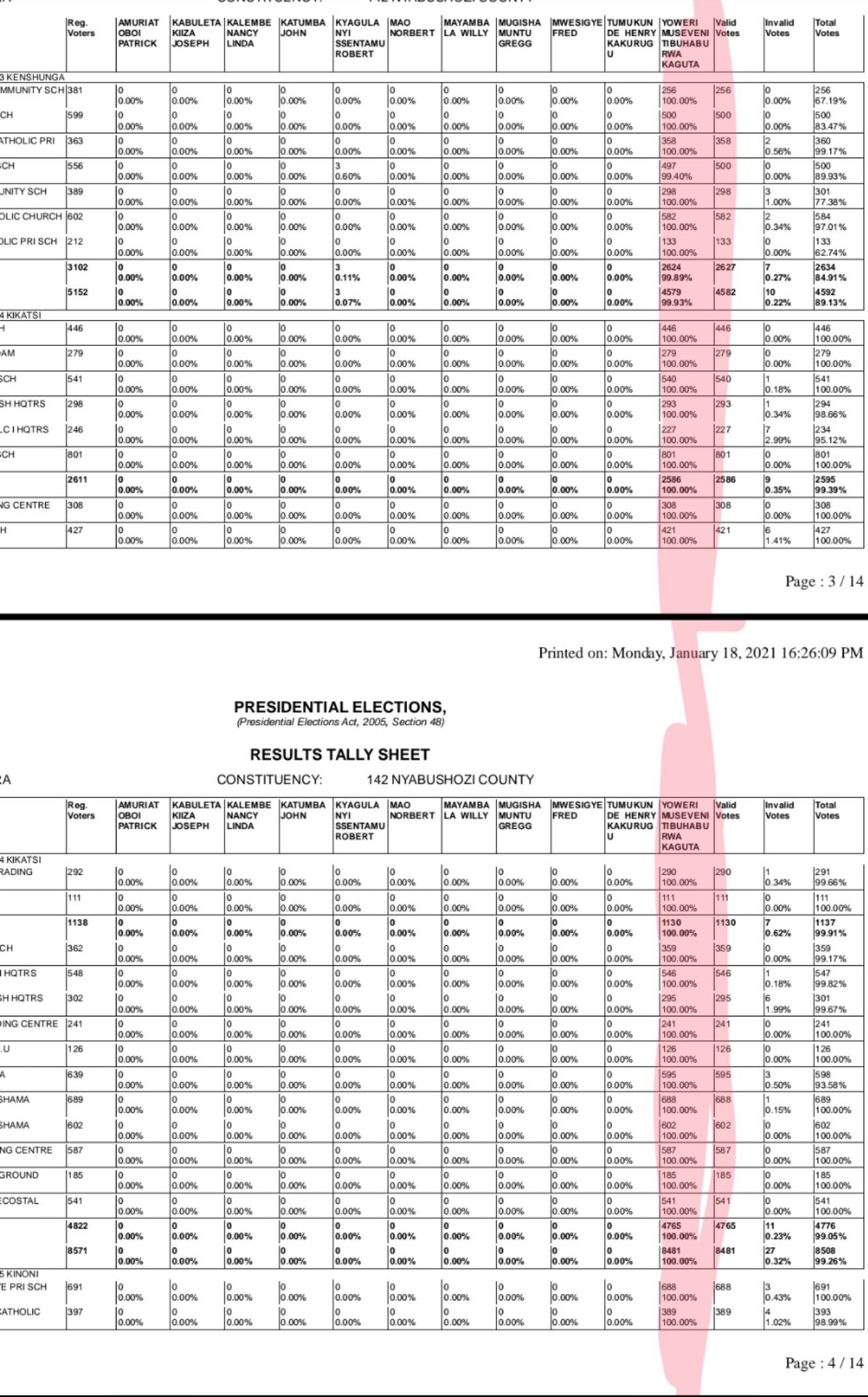 Many videos were shared recording ballot stuffing
As the internet was switched off, NUP agents were put under arrest and the military deployed everywhere, security forces rigged with impunity
This was recorded in Butembe county, Jinja District. The military took positions and was ordering people to vote for Museveni. This happened in many rural areas. There are several others who were caught recording videos and were immediately ordered to delete the videos, their phones were confiscated and thrown away.
These videos were recorded in Kisoro. Security operatives came to polling stations and took away the ballot papers and ticked all of them in favor of Museveni. On returning them, the voters were told that all ballot papers had been ticked and there was no longer opportunity to vote for the president. Our agents complained and they were immediately arrested. With all this rigging, he could only muster 58%. It is clear that Museveni could not even get 20% in a free and fair election.
Kisoro. In this video, the presiding officer was reporting to her supervisor how security operatives took away all ballot papers and ticked them. People who recorded these videos were doing so in fear because of the potential repercussions if they were seen recording. All security operatives who participated in this fraud and those who gave them the orders are an embarrassment to this nation. Regime operatives have been moving in different villages looking for our polling agents and asking them to fill new DR forms.
This video was sent by a UDPF soldier, who had been commanded, as many else security forces, to pre-ticking ballot papers in favour of Museveni.
A police officer recorded by filling a box with pre-ticket ballot papers.
People were ordered to vote in presence of everyone, such as military.
At several polling stations, the military raided polling stations, chased everyone away and stuffed ballot papers at will. At other stations in Isingiro and other districts, people reached polling stations only to be told that they could only vote for MPs as the president had already been voted for. Many witnesses are willing to come out, others recorded these on video although for many, attempting to record attracted severe beatings and torture.
Post-Election: Mass arrests
After the elections, many arrests were (and are still being) made by so called 'drones'. These are specific vans that are positioned throughout cities, and are known to monitor and arrest citizens that are in support of opposition. What follows, is a collection of missing persons in the past days.
29 Januari. Kakooza Mozes, Sub County Coordinator for Renewed Uganda is arrested in in Wobulenzi, Luweero District.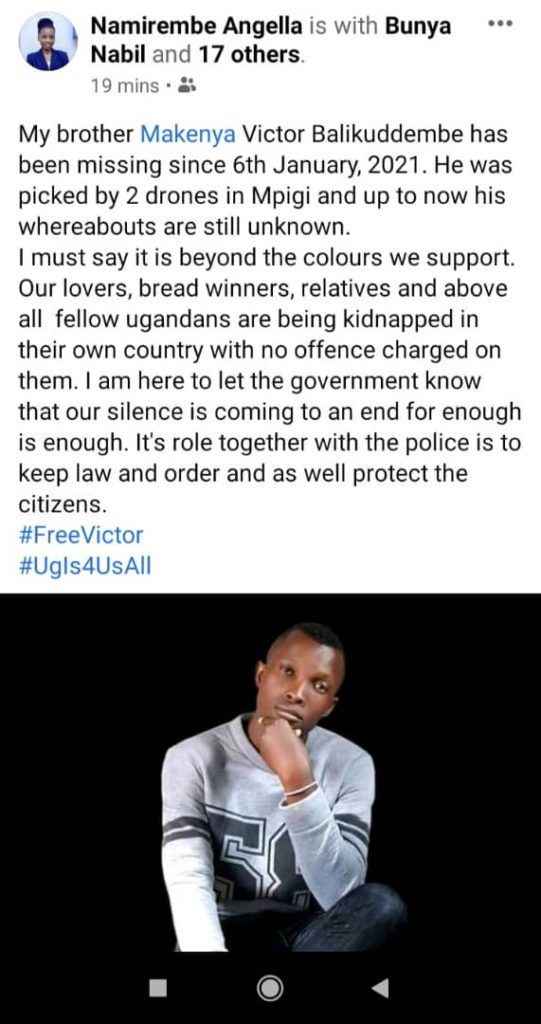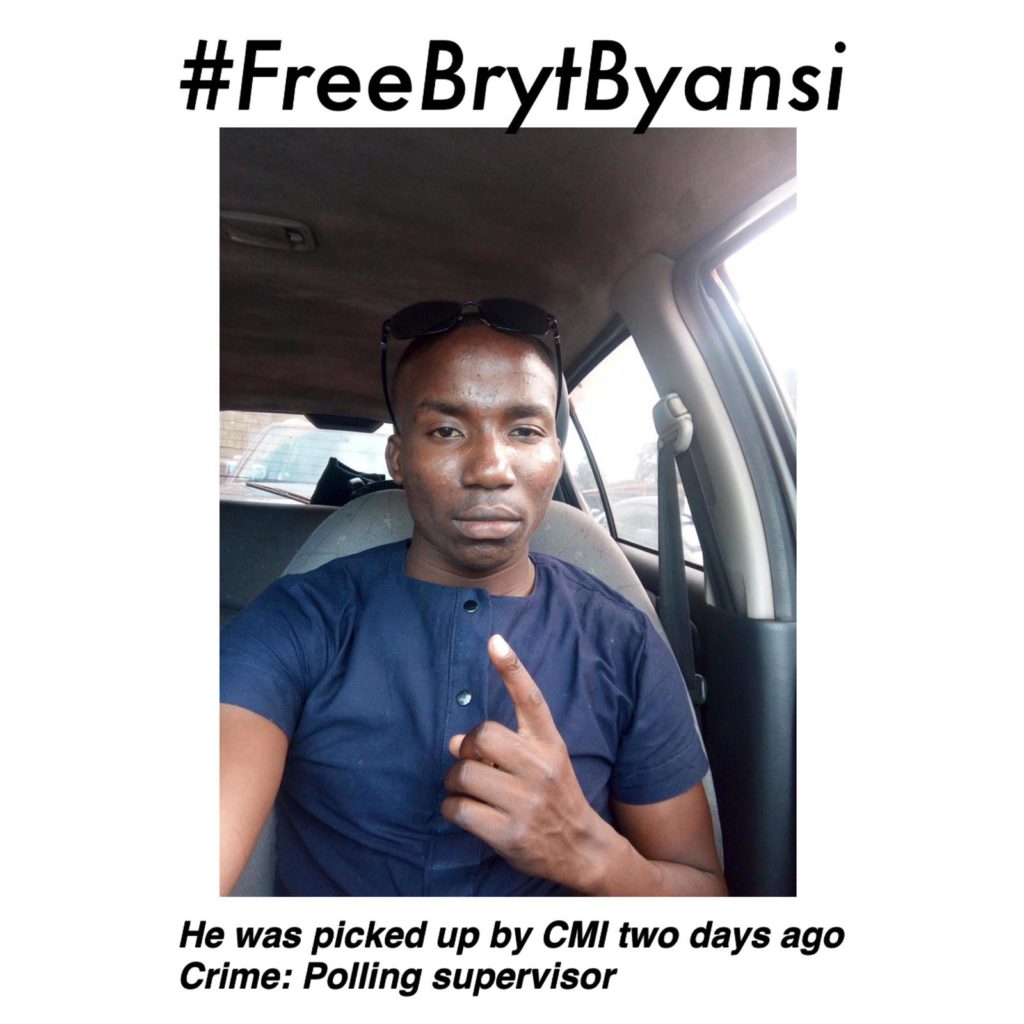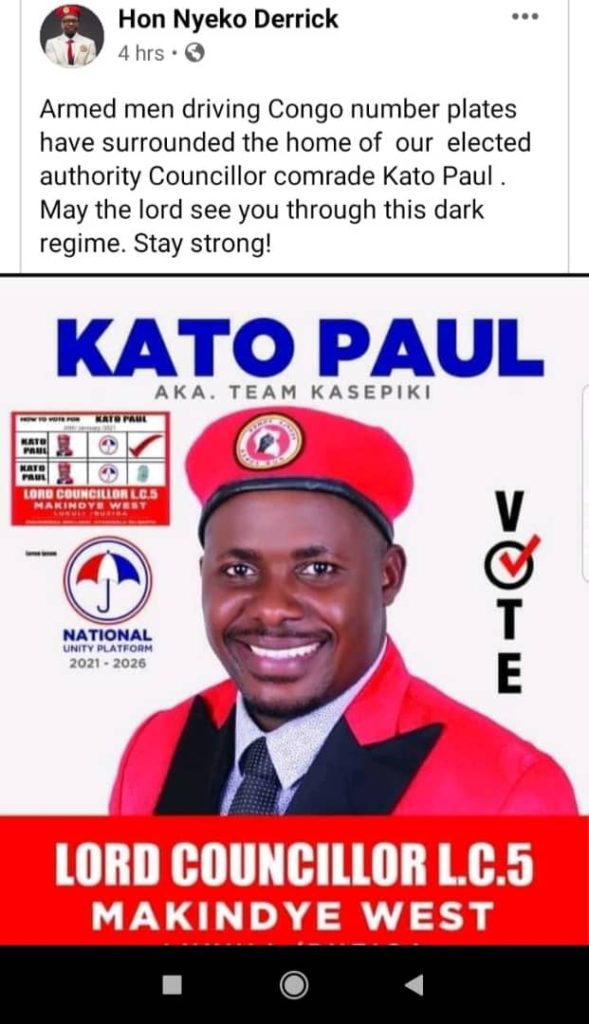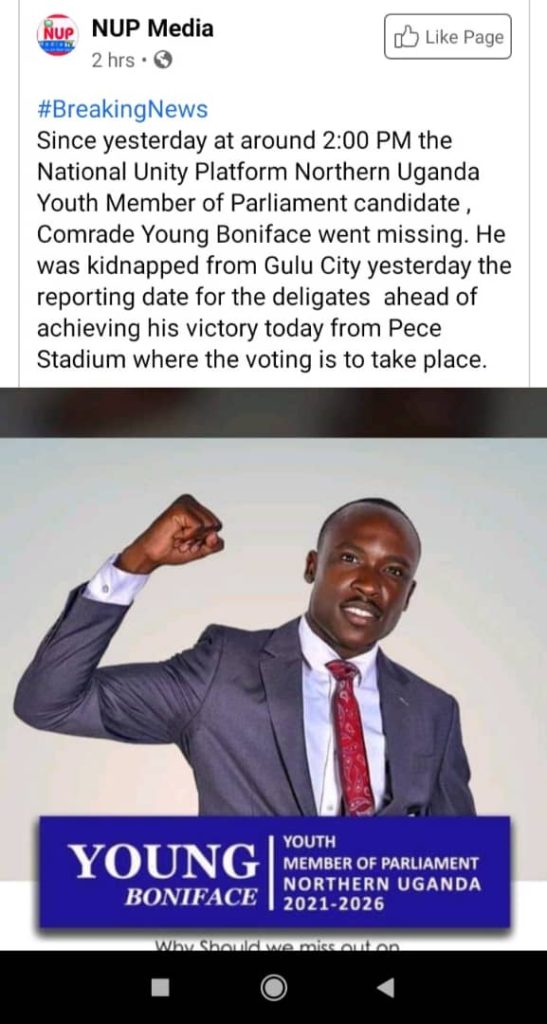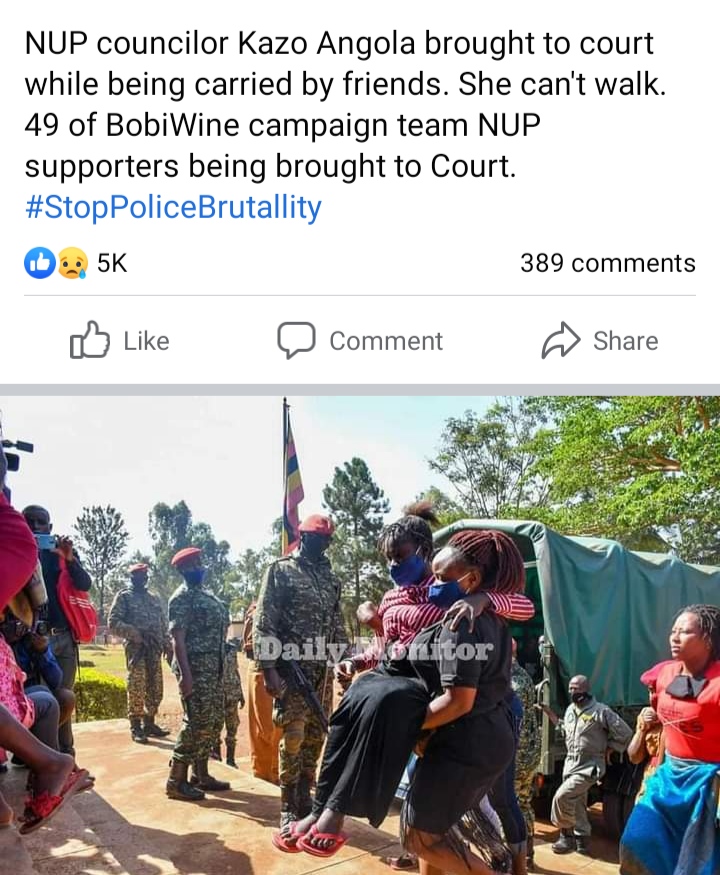 Conclusion
The 2021 elections of 14 January in Uganda, were the most rigged election in the history of the country. During campaigns the state used both security forces as the judiciary to disrupt the campaigns of opposition. More than 100 citizens died because of state violence, hundreds are under arrest or missing, feared to be in safe houses that are known to be torture chambers. Presidential candidates were arrested, pepper sprayed, and shot at with live bullets, grenades, and tear gas. There is one instance that chemicals were used against supporters, while supporters were also stabbed with a bayonet by a police officer. Intense state violence was used against the population, and there are hundreds of incidents of election fraud, where pre-ticket ballots for Museveni were used, or voters had to fill in their choice under the watchful eye of armed soldiers.
Election observer mission were actively shunned, while the internet shut down prevented the world to witness the violence in Western and Northern Uganda. None of the recommendations of the EU election observer mission were followed. It is clear that the Ugandan government is functioning as a dictatorship.
NUP had expected this violence and election fraud, that is why the project UVote was started, to collect and protect the real votes of the people. Results can be found on: https://uvote-uganda.com/. This results reinforce the earlier surveys. Not Museveni won the 14 January elections, but Robert Kyagulanyi. Museveni is using the full capacity of the state to hide this election fraud. It is important that all donors denounce the election results, and stop sending donor funding to the government. It is clear that the Ugandan government is no longer a legitimate received of donor support, in particular, its Police, Army, and Judiciary.
However, most mainstream media reported that the Ugandan elections were relatively peaceful, and that Museveni had won the elections. They are maintaining the narrative of the Ugandan dictatorship. Donor embassies have maintained their 'cordial' relationships with the Ugandan government. In response, protests have erupted all over the world. Protest occurred in the United States, Netherlands, Denmark, Canada, Switzerland, Kenya, Malawi, Australia, Belgium, Germany, Ghana, Israel, Sweden, and are likely to continue until the will of the Ugandan people is acknowledged.