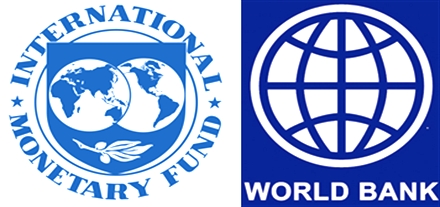 With all due respect, I want to remind those bodies above that you are lending money to Museveni as an Individual but NOT to Uganda as a country because that money is not used for the intended plans and projects as evidenced by the information about rampant corruption in this article that has existed for a number of years. It is disheartening to witness Uganda being one of the most corrupt countries since devil Museveni became a president in a country which he does not qualify to rule because he is not a Ugandan. There are numerous corruption scandals that have happened since Museveni became a president but nothing serious has ever been done because in most of those scandals if not all, Museveni in particular and his family, in general, have always been involved. That explains why whenever public funds, as well as donors' funds, is misused no one is accountable. It puts Ugandans down in the dumps to see that, donor countries still give money to Uganda. Which money does not meet its goals and objectives, but rather just end in the pockets of a few individuals making Uganda indebted which will take Uganda a number of years to pay those dates. It really defeats my understanding and ask myself multitudinous questions why donors can't completely stop dealing with Lumpens and thugs of African dictators like Museveni and his colleagues?
Donor countries, IMF, and the world bank ought to have learned lessons about Museveni and his robbers in the government. To begin with, the stealing of Covid funds. The crooks who rule Uganda decided that all donors should pass their support through the Office of the then Prime Minister Dr. Ruhakana Rugunda. It is mindboggling to hear that the thieves who are ruling us illegally practised their hobby of embezzling government allocated funds. Uganda had received enough help but nothing was done professionally to the Ugandan citizens' satisfaction. We received US$491.5 million (Approx. Shs1.8trillion) that came from the International Monetary Fund, US$300million (Approx. Shs 1.1trillion) from the World Bank, and US$31.6million (Approx. Shs 115.5billion) from the African Development Fund. The government also received grants from various international partners; including the European Union, USAID, China, and the US worth millions of dollars. But is a big shame that the money which was given to Uganda to tackle the pandemic was embezzled by powerful individuals in the government
In fact, the twats who are ruling us do not have any respect for Ugandans. I could not believe my ears when Museveni made an appeal for public solidarity in support of the health care system that was already in a crisis, due to limited funding. When Ugandan philanthropists gave in all what they had with all their hearts, the wolves in the government which do not care about the citizens' health, were not ashamed of stealing the money and other things ranging from food, medical supplies to mention but two examples. The Ministry of Health received Shs25 billion from the Emergency and Consolidated Fund, Shs94.1 billion in the supplementary budget, and a lot more but surprisingly, oxygen plants were neither installed nor supplied. Gas Cylinders were not also bought as it had been planned! Because the money was embezzled. What type of government do we really have? Ugandans just survive on God's mercy. It is unfortunate to see our country being entangled in what I can term as the spider's web of a blood-stained regime. Ugandans have gotten tired of the whole fraudulent, illegal and bogus system of government. I totally consider it as an evil type of government that has led to the terrible suffering of Ugandans in and outside their country. The government is characterized by enormous abuse of human rights, high levels of corruption, lack of both transparency and accountability. Whenever the mess is done in our country, no one is accountable and surprisingly, Museveni is always ready to defend his criminals since he is also a criminal
I want to vividly inform donor countries, IMF, and the World Bank of the former corruption scandals on top of Covid funds, something which clearly shows that Uganda is in a total mess and it is not logical now to continue lending money to Museveni because Ugandans will NOT be willing to pay those huge amounts of debts that never benefited their country. It hurts and also perplexes us that those corruption scandals are encouraged by Rutabasirwa Museveni himself because he uses them as one of the ways, through which he contains the henchmen he is ruling us with. In fact, corruption scandals are part and parcel of his political game to contain his henchmen. If you look back into Museveni's Mafia government, it portrays that corruption has worked for the Rwandese origin president in Uganda, something he has used deliberately to keep himself in power for over 35 years.
I highly doubt whether donor countries, IMF and the World Bank have Uganda at heart or they just ONLY want to gratify their interests at the expense of the suffering of Ugandan citizens. You very well know that your man Museveni does not want to hear anything related to freedom of speech and human rights, and his government is also characterized by; a grand-scale theft of public funds and corruption, involving public officials at all levels of society, as well as a widespread of political patronage systems, based on of nepotism, tribalism, threats, and killing of innocent citizens, especially those who are opposing him. But you go ahead to corroborate with him to enable him to use the money you give him, which money he uses in corruption, as one of his political weapons to make him rule for so long.
Dear donor countries, IMF, and the World Bank it is on record that, Uganda has got a number of corruption scandals which even involve top high government officials for example; the former Vice-President, Gilbert Bukenya, the former Prime Minister Amama Mbabazi, and former state minister for works and transport, John Byabagambi, were once implicated in the mismanagement of billions of public funds meant for the 2007 CHOGM summit, but up today nothing was reached upon. What does that mean? It means that people have accumulated unexplainable wealth, under Museveni's regime and they don't even want this murderer to leave power. Others implicated were; ministers John Nasasira, Mwesigwa Rukutana and Isaac Musumba. Although Parliament had allocated sh270b to the summit, the Auditor General discovered that more than sh370b was spent. And surprisingly, the figures went up to sh500b after the parliamentary accounts committee grilled those who spent the funds. But there was nothing done up today. That is why I humbly ask donor countries, IMF, the world bank, and the European Union, surely what is your intention of funding Museveni to still be the president after seeing such a high level of corruption? Kindly have both; some shame and mercy on Ugandans please, by stopping working with dictator Museveni
There was also a scandal about global Fund 2008 At the time of investigations, $10m (sh25b) was missing, although some sources put the figure at $37 (sh95.8b). That money was meant for malaria and tuberculosis drugs programs. The scandal resulted in sucking the former health minister Jim Muhwezi, and his then deputies Mike Mukula and Alex Kamugisha. Surprisingly, their wealth was not confiscated by the government which would have been the best thing to do. Under normal circumstances, their sucking did not make any sense because there were no further steps taken about those crooks. There was also the NSSF-Temangalo saga, in 2008. This involved the then Prime Minister Amama Mbabazi, who made a deal with the security minister, who they claim to have been paid sh11b for 464 acres of land, with each acre costing sh24m. There also came the ID Scandal in 2010 which consumed over 150b to finance the project. Another corruption case was about the LCs bicycle scandal, 2011 which involved Amman Industrial Tool and Equipment Ltd, a locally-registered company, was contracted by the Ministry of Local Government to supply 70,000 bicycles meant for LCs, but no single bicycle was delivered. And over $1.7 million (about sh4b) was lost.
It is also right and fitting for donor countries, IMF, and the World Bank to know about the Microfinance 2011 scandal of Sh60b, which went missing from the Microfinance Support Centre. This involved the then Former Vice-president Dr. Specioza Wandera Kazibwe, who was the board chairperson. She was suspended over allegations of abuse of office and mismanagement of funds. But up today, she never explained where that money went. There was also Hassan Basajjabalaba's corruption compensation scandal, 2011 in which Uganda lost sh169b. As usual, what was done is to; suck two ministers, Syda Bbumba for finance and the attorney general Khiddu Makubuya, alongside the three members of staff. But that was done to blindfold Ugandans because, up today, nothing great is known about what followed later. There was also the Pension's scandal matter, 2012 in which I69billion was lost but nothing was followed later. It is also important to know about the Prime Minister's Office corruption scandal in 2012 which led to the then principal accountant in the Prime Minister's Office, Geoffrey Kazinda, who was remanded to Luzira Prison in connection with the disappearance of sh5b. Last but least, donor countries, IMF, and the World Bank should also know about the Valley dam scandal which was one of the first corruption scandals. A loss of sh3.4b in1998/1999 was reported and made the then Vice President Dr. Specioza Wandera Kazibwe ready to resign since she had vowed to go back to treating the many hernia patients in Mulago. But she later shifted blame for the financial impropriety in the valley dams scandal to bureaucrats in the Ministry of Agriculture, Animal Industry, and fisheries, saying that her duty was to give political guidance to the bureaucrats in her ministry but the execution of the project entirely rested in their hands. The question is, where did that money go? The list of corruption scandals in Uganda is endless. It is really a shame to keep on losing such a colossal amount of money which is both from donor countries as well as taxpayers' money.
In conclusion, Uganda has experienced lots of big corruption scandals, in which a colossal amount of money has disappeared that has led to Uganda as a country not having better quality public services, better formulation as well as the adoption of constructive political policies and government's commitment to such policies. This has made Uganda indebted since the money is borrowed but it is not put into its proper use. But surprisingly donor countries, IMF and the World Bank have continuously and persistently continued working hand in hand with Museveni whom they know that he is not a Ugandan because he can easily be manipulated to fulfill anyone outsiders' interests at the expense of the suffering of Ugandans. It is a shame and it should go on history that those high-profile governing bodies are dealing with an incompetent government that lacks accountability and transparency.

WRITTEN BY FRANCIS KASIBANTE. FOR GOD AND MY COUNTRY.