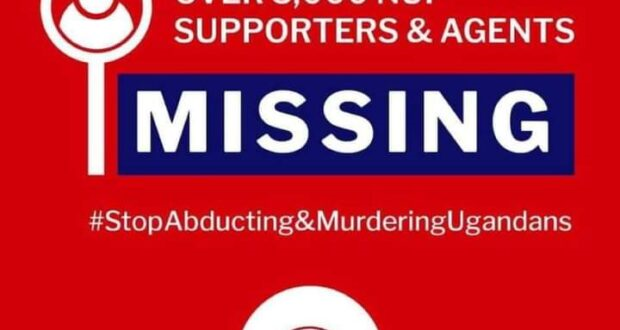 Fellow Ugandans, I wish to vividly let you know that we are all victims and prey to Museveni's blood-stained regime. What does that require us to do then? It requires us to fight really hard wherever we are to get rid of Museveni. It is no longer a secret. We are all entangled in circles of Museveni's strong spy networks everywhere we live. It will be good if we do not even give a chance to Museveni to complete the term of office which he doesn't merit to have because he just rigged the elections. We have to know that fighting for freedom requires fearless resistance. That is exactly what people like Bobi wine are showing us today and it is our obligation as citizens of the same country to give them a hand. Let us not forget that freedom is victory over fear. We shall all be victorious if we put fear aside of course putting into consideration Nelson Mandela's words that "Courage is NOT the absence of fear but it is a triumph over it" Having said that, I am therefore of the view that, it is our obligation to make Uganda a free country in which our voices are heard. No one will do it for us.
Brothers and sisters let us be sincere to ourselves. A number of us are out of the country but we can't tell exactly our country mates what we either go through or we went through when requesting documents or seeking asylum. In fact, the mental or psychological torture people go through should have been a driving force to make us fight for our democracy. I am sure that most of you Ugandans where you live in the diaspora go/ went through what we call tough moments to settle where you are, unfortunately, that makes you feel comfortable not even bothering at all to be part and parcel of the fighters for democracy in your own country. However, it will be very unfair if I don't thank all those people who live in the diaspora and have genuinely participated wholeheartedly in the struggle. But also, I wish to remind all those who have not done anything in the struggle that, East or West home is best. Why don't we really cherish where we come from? Who do you think is going to fight for you to make things better in Uganda? Why don't we come together as Ugandans to get Museveni out of power? A useless president, a foreigner who has been in power for more than 35 years! Do you think that Museveni still has any vision for our country?
We are out of our country because of a Vampire which is in his doddery stage, a creature that does no longer have any vision for Uganda. It is really sad to be in between a rock and a hard place and yet the only solution is to come together and push Museveni out of the country as he did to his predecessors. Museveni's rigging of the elections plunged Uganda into darkness again. Uganda would have been the best country to live in if we were not being ruled by a foreigner Museveni who has never had any vision for our country. We have to assert our identity as Ugandans by getting rid of Museveni who is not part of us. That is why I do emphasize the point that it is a good idea to come together to fight and also protect our democracy. All that Museveni has done in our country justifies the fact that he should not hold any office of honor or trust in our country because he himself is a criminal and above all, he is not a Ugandan. That is a fact and it is now known by many Ugandans. I want to remind all freedom fighters that we shall have to go through ups and downs and also face countless intimidations in the struggle of liberating Uganda. Bear it in mind my compatriots that it is our obligation as citizens of Uganda to act as symbols of change and if we are hopeful and persistent, we shall indeed make Uganda a better country the way we want it to be.
A government that cares about its citizens ensures protection peace and prosperity. Such a government also guarantees human rights, which is the component of freedom of speech and free movement. Its citizens must be free from any form of torture or any sort of degrading treatment. But it is really heartbreaking to see in Uganda rampant kidnappings, torture as well as killing journalists everywhere in the country. The fact is Museveni is doing that in order to instill fear in Ugandans because he knows that he is not the president-elect. Ugandans elected Robert Kyagulanyi Sentamu (Bobi wine) Let us not forget however that, a lot of people were killed during presidential campaigns. Those innocent Ugandans died because of Museveni's greed for power. And now he is the same man who is kidnapping, torturing, and also killing the same Ugandans to add pain to the already wounded Ugandan hearts. It really hurts to have again a bloodstained failed administration which just rigged the elections. I want to tell Ugandans that leaving Uganda and keep silent, will not be a solution to Uganda's problems. You have to be active by fighting for our democracy and rule of law because even in those democratic countries where you live, their citizens did shed their blood to enjoy the freedom you also enjoy.
My humble request fellow citizen is to have a connective effort to see that we work together as Ugandans to get back our country from a few Rwandese who are ruling us. For me, I opine that having Museveni again as a president is an irremovable stain in our country's history because that old man, a child of many lies and false promises has for long pushed and placed our country to the ruins. Dictatorship hurts democratic ideas. Museveni being a dictator is perpetually putting Uganda and her citizens into the deepest and darkest hole of the undemocratic system. Uganda is in a dark and regrettable moment because Museveni is no longer worthy to lead our country. He is well-known for a very long bad history of torturing and killing his opponents and also not respecting the rule of law. It is on record that for all the years Museveni has ruled our country he has totally failed to enshrine the press and its freedom in the Ugandan constitution. How do you expect him to do it when he is in his doddery stage?
Ugandans, let us continue taking Museveni as our number one enemy because he doesn't want anything good for our country. I can assure you that Uganda is going to be stagnant in each and every sector and also a number of Ugandans are going to continue dying day and night. That is why we are witnessing rampant kidnappings and countless deaths. Fellow Ugandans, time and tide wait for no man. The more Museveni clings himself onto power when we are looking on without being part of the struggle to remove him from power, the more our country will continue to be in a such regrettable political mess. I know on one hand that Ugandans at home and abroad are still in shock because of Museveni's victory. But on the other hand, Museveni's henchmen and his other political goons are highly jubilating his victory that they are ready to continue ruining our motherland. But let us not keep on crying for spilled milk. Something has to be done in any way possible or else Uganda will be in a devastating situation than before. Let us work in solidarity under the umbrella of having a cooperative approach to end Museveni's domination of our democracy. Let us have a positive energy that will enable us to end autocratic rule. When shall we put in order the mess caused by Museveni's government? Shall we even be in a position to do so if we isolate ourselves from the problem?
In conclusion, it is neither correct nor acceptable for Museveni to undermine Uganda's democracy. We need unity in our country because Museveni has divided us a lot. And that is why Ugandans are suffering; psychologically, physically, economically, democratically, socially… But when will that situation end? The answer is, it is to unite as Ugandans and find a solution of stopping deplorable situations in our country
WRITTEN BY, FRANCIS KASIBANTE
FOR GOD AND MY COUNTRY.