27 December 2020 was a deep black day for National Unity Platform, for democracy and journalism in Uganda. An article by UNN on the observer also describes what happened: https://observer.ug/news/headlines/68445-ghetto-tv-s-ashraf-recovers-memory-recalls-moments-before-shooting
We spoke to Ashraf, who has fortunately recovered, and asked him what happened.
Nico: Who shot the canister at you?
Ashraf: Enock Abaine Assistant Commissioner of Police. By that time he was the RPC- Regional Police Commander of Masaka Region
Nico: Was he shooting at you or at Bobi Wine?
Ashraf: I was seated behind Bobi wine. He was standing in front of Bobi wine. The car skipped a bit and Bobi wine fell slightly. The Bullet came to my face
Ashraf: That's my Answer.
Nico: Not teargas canister but bullet?
Ashraf: If it was a Canister, it would have blusted my Face. The injury would be worse. It was a bullet.
Looking at movie material from the events we indeed do not say any smoke, that would indicate teargas.
This is the suspected shooter Enock Abaine, Assistant Commissioner of Police. Enock Abaine has committed multiple crimes against opposition members.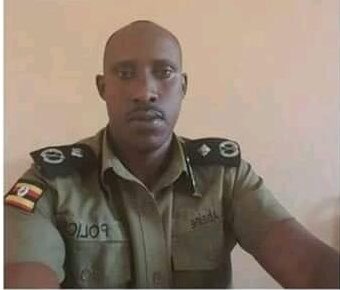 According this article from Ekyooto (https://ekyooto.co.uk/2020/12/27/exclusive-rpc-abaine-enock-shot-ghetto-media-journalist/) he shot and killed in 2017 a Besigye supporter. After the protests in November against the arrest of Bobi Wine he went to the house of Mathias Mpuuga and destroyed the residential gate with a crane. He tried to get to Mpuuga, but the latter was able to protect himself.
After the 27 December events the UPDF made a statement, and we want to take a closer look at it.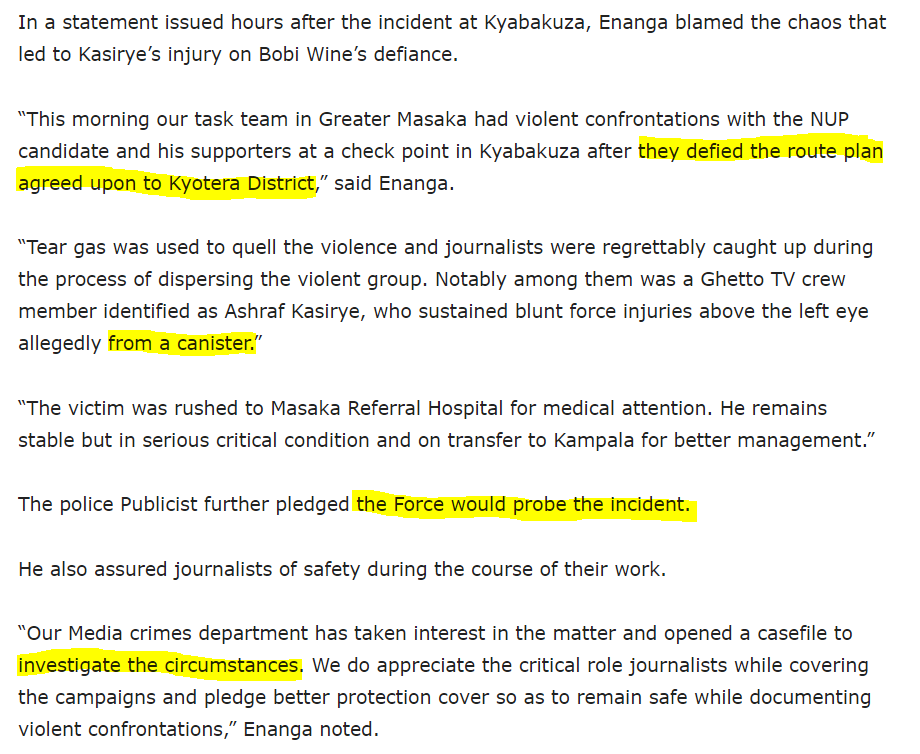 The UPDF makes 4 statements here that are false.
"They defied the route plan agreed upon to Kyotera district"
We asked Sharaf about this.
Nico: What do you know about Enanga statement "they defied the route plan agreed upon to Kyetera"
Ashraf: I don't know anything about it. However, all along they wanted us to use remote roads. Hardly to reach. The same thing happened. They never wanted us to use the main tarmaced road.
Ashraf statement is consistent with multiple affidavits by NUP officials and reports by journalists that security forces constantly tried to hinder the oppossition campaign by leading them off the main roads.
2. UPDF claims they shot a cannister. We have shown above no smoke can be seen. Ashraf was hit by a bullet, as he has declared above.
3. "The force would probe the incident"
To probe an incident you need to interview witnesses. We asked Ashraf about this.
Nico: Has the police investigated the incident, as they claim they would do?
Ashraf: No. To my knowledge, they haven't. But if you ask them. They will say m, the investigation is ongoing.
Nico: If they investigate they would interview you (in a nice way)
Ashraf: They haven't
Nico: Or any other witness that was around. I suppose they didn't interview those either.
Ashraf: No one..
4. "We do appreciate the critical role journalists play"
In the movie 'Targeted' the African Institute for Investigative Journalistm explains how journalists are systematically targeted, attacked and wounded by security forces. https://africaniij.org/2021/06/18/targeted-the-tales-of-journalists-who-covered-the-2020-21-general-elections-in-uganda/
The false statement by Enanga is not supported by any facts.
These 4 lies are not the only UPDF lies of 27 December. After Ashraf was shot, Frank Senteza rushed to assist him. He was knocked death by a military vehicle, but the UPDF spokesperson claims he jumped off a speeding car. https://chimpreports.com/army-nup-speak-out-on-bobi-wine-bodyguard-frank-ssentezas-death/
It's now more than a half year after the tragic events. How is Ashraf doing now?

Ashraf: I am fine. On treatment taking for almost two years.. I have a surgery on my skull next year. If I get avenues to get it.
Nico: The doctor recommends you to wear the helmet?
Ashraf: Yes. Air entering my head directly affects me. I feel too much headache. And also Wind on the injury a real hustle in my life. And protection. Nothing should tap my wound.
Nico: Understood
Nico: So you wear it all the time?
Ashraf: All the time. But I want to buy Head protectives. I couldn't get them in Uganda. Some people promised to get them for me in USA
The reason for doing this factcheck is this article by Pesacheck that we will further discuss in another article: https://pesacheck.org/false-ugandan-journalist-ashraf-kasirye-is-not-dead-e063f9c4085c