After the elections of 14 January members of European parliament were disgusted by the rigging of the elections and the violence of the dictatorship. With over 90% mayority they past a resolution calling for an investigation and to take measures against individuals involved in Human Rights violations.
The European commission and the European governments did nothing.
Instead the Italian ambassador had dinner with the biggest human right violator (known at the International Court of Justice in The Hague).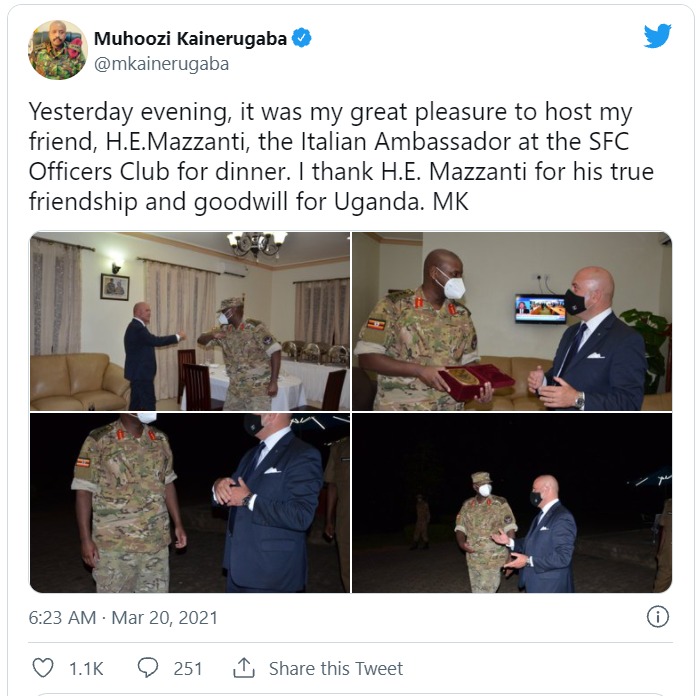 This should be of no surprise to us. It's the policy of the European Union to maintain warn relations with the violent junta in Kampala.
On 20 November 2020 the Ugandan security forces killed more than a 100 innocent unarmed Ugandans (official death toll: 54) after Bobi Wine had been incarcerated in Luuka. The EU had to come with a statement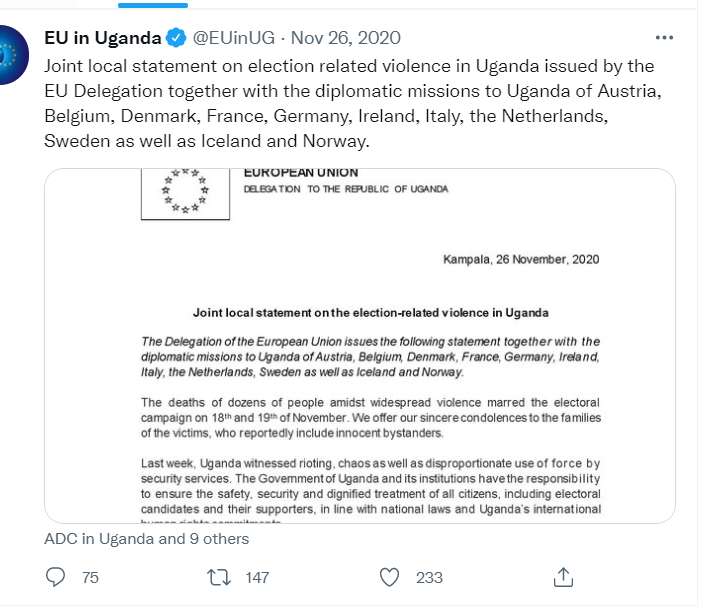 The EU called for an independent investigation. "to ensure justice for victims and avoid impunity for the perpetrators"
Nothing happened.
On 8 January, when it became more clear that the government were going to use massive violence during the elections the EU issued another statement.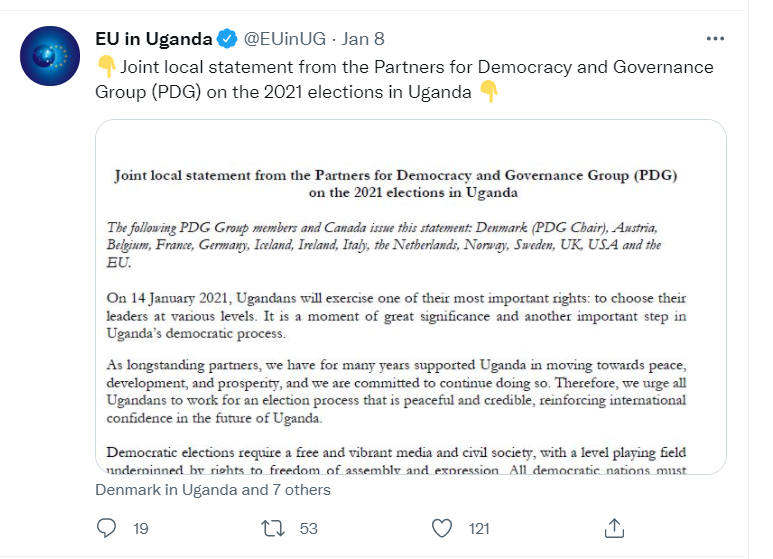 Moreover, the Ugandan government should ensure law enforcement and security agencies exercise restraint when safeguarding the security of all citizens, including electoral candidates and their supporters, in line with national laws, Uganda's international human rights commitments and the African Charter on Democracy, Elections and Governance, while at the same time ensuring the protection of democracy, the robustness of its institutions and rule of law.
What EU was afraid off happened; the security agencies exercised enormous violence. On top of that, EU observers were not given visa.
The EU said nothing. Instead, the head of European delegration told Daily Monitor how well organised the elections were. The EU had to correct that statement.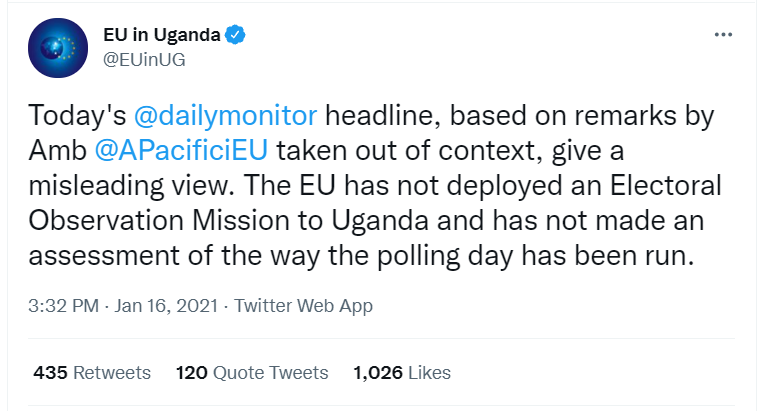 On 31 May the BBC published a disturbing documentary called "Three killing in Kampala". https://www.youtube.com/watch?v=g7d2AvLEPyA outlining how innocent and unarmed Ugandans were killed in a killing spray.
The EU had to come up with another statement.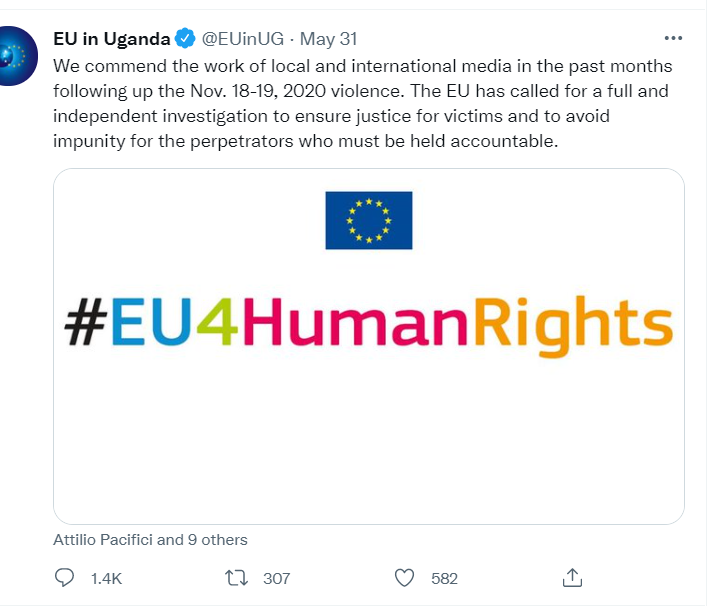 On 20 August the Ugandan government announced the closure of some 50 NGOs. Yes, indeed the EU came with a statement!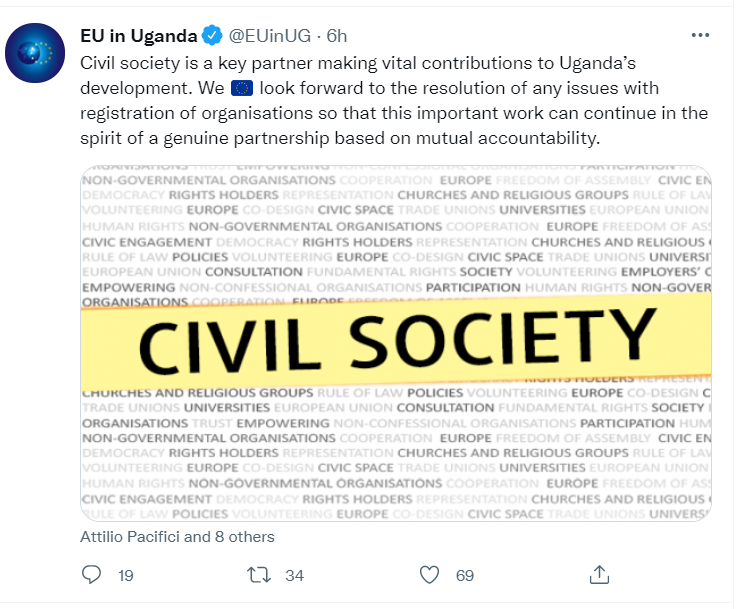 What do all these calls & statements and petitions by the European Union have in common?
Nothing happened.
The EU barked softly and didn't bite. The dictatorship knows he has nothing to fear from Europe. If he crosses the line, they will just issue another statement.