For the military dictatorship it's crucial they control the media to suppress real news about their crimes. Unfortunately we have to maintain this list of government hoaxes ourselves, because factchecker sites like pesacheck are not interested.
Announcement of 189 al-Shabaab fighters killed in Somalia
Around 22 January Lt.Col Akiki of the UPDF shared a press statement about successes in their fight against al-Shabaab. Many influential media houses ran the story, such as Al Jazeera. A week later the story had to be withdrawn
Full story is here: https://diaspora.nup-uganda.com/?p=292
Pesacheck was not interested in this story.
2. On 27 December Kasirye Ashraf was shot in the head by security forces.

Frank Senteza rushed to assist him. He was knocked dead by a military vehicle, but the UPDF spokesperson claims he jumped off a speeding car.
An overview of various lies spread by Ugandan government on this matter can be found here: https://diaspora.nup-uganda.com/?p=313
Pesacheck was not interested in these lies. Interestingly enough, they did run a factcheck whether Ashraf Kasirye is alive, but this is not debated at all!
https://pesacheck.org/false-ugandan-journalist-ashraf-kasirye-is-not-dead-e063f9c4085c
3. On 3 August 2021 Fred Lumbuye was arrested by Turkish authorities.
According to Ugandan authorities, he was transferred to Uganda, and then to Gulu, as shown by various screenshots taken by Hillary Taylor.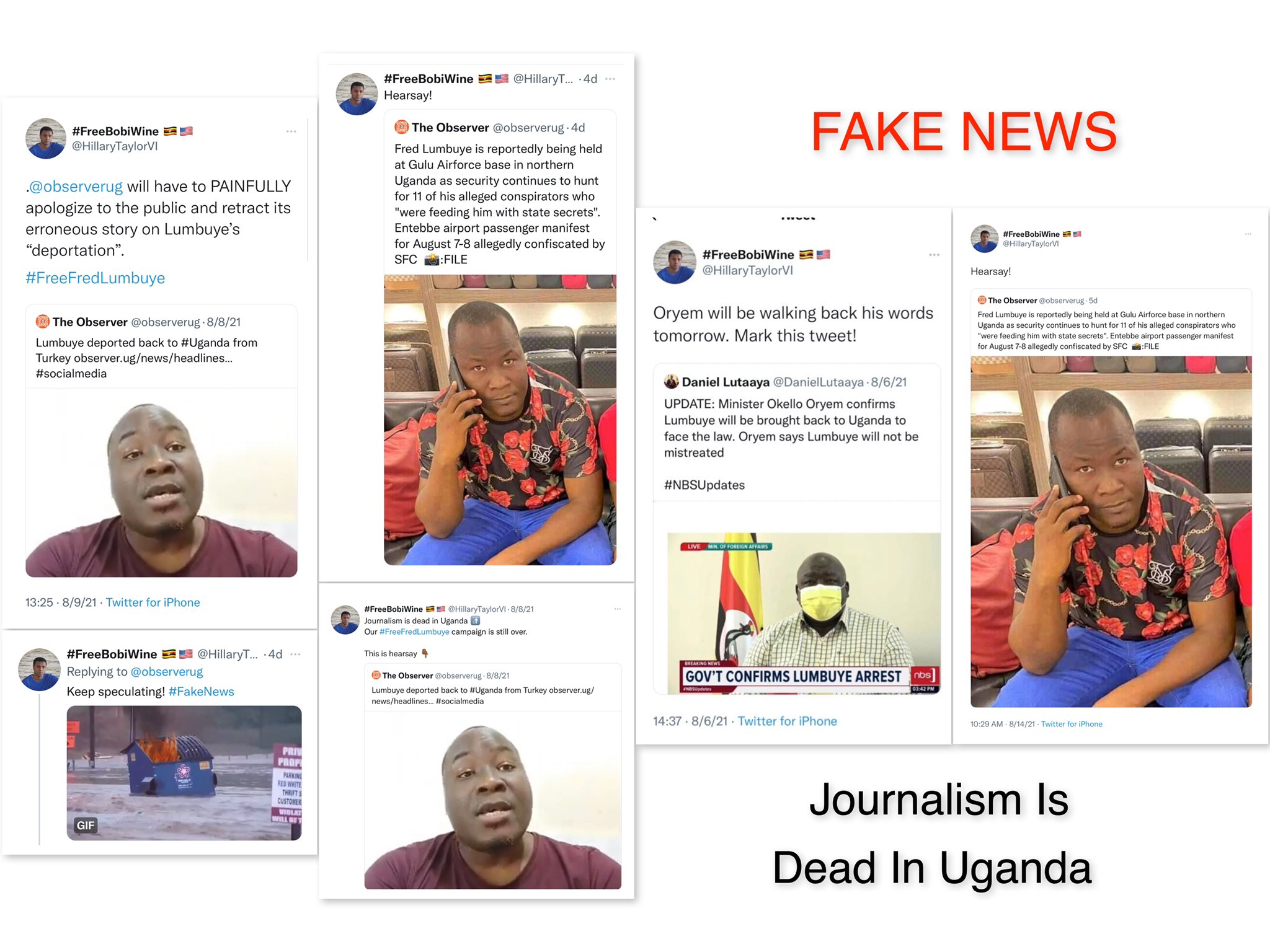 On 8 September the Observer ran the following article: https://observer.ug/news/headlines/71130-govt-official-lumbuye-will-return-humbled
On 11 September we submitted this article as fake news to Pesacheck. Their response "Your request is outside our verification scope". Again, Pesacheck doesn't want to verify Uganda government lies.
The truth is that Fred Lumbuye never left Turkey. On 19 October he was released from detention and he remained in Turkey.
4. Fake Declaration of Results form posted by Electoral Commission
On March 1st the Electoral Commission posted on Facebook & Twitter that a DoR posted by NUP was fake, and they posted the 'Genuine' one.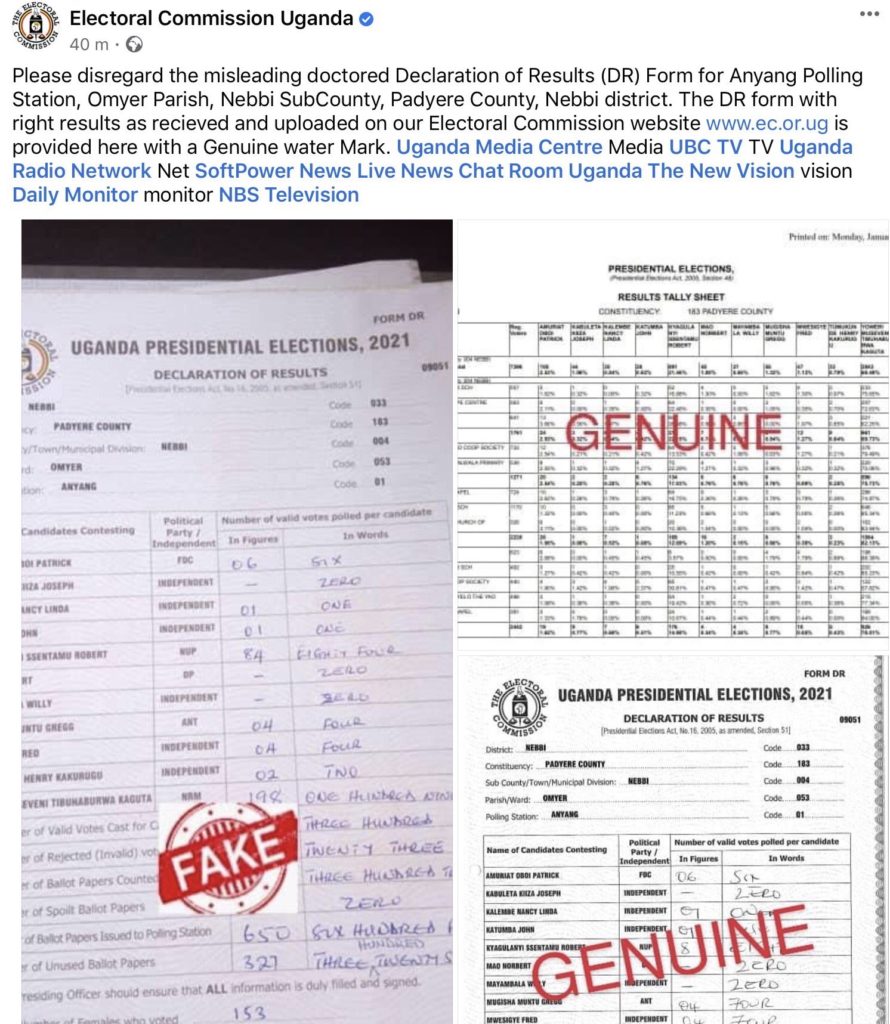 However, professor of democracy Nick Cheeseman soon discovered inconsistencies in the DoR posted by the EC. The votes don't add up. This even led to a publication in the Continent on 6 March.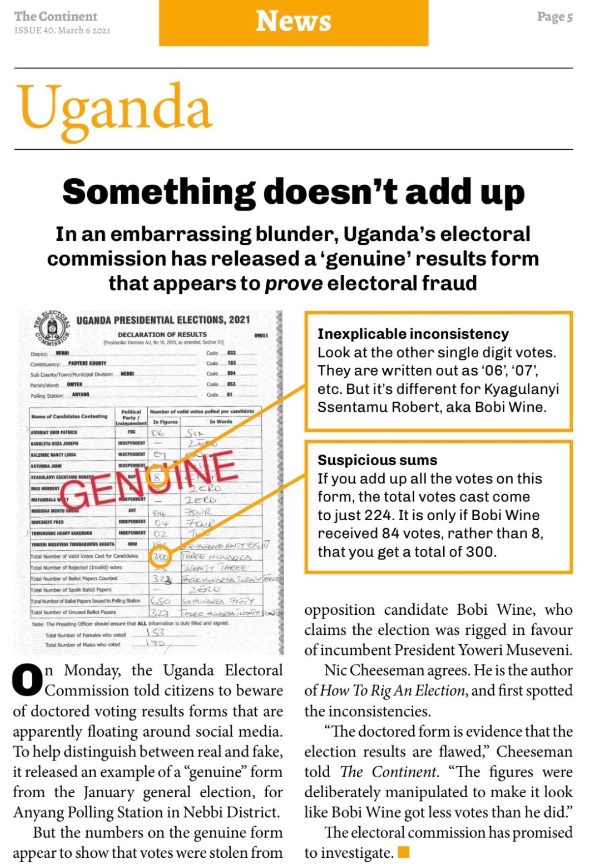 The EC never released the results of any investigation. Pesacheck never wrote about the fake DoR shared by the EC.
5. New Vision falsely announced that Eddie Mutwe is going to marry.
After we pointed out this hoax to Pesacheck, they decided to publish: https://pesacheck.org/false-these-remarks-attributed-to-bobi-wines-bodyguard-eddie-mutwe-are-untrue-eba2b9c76e1c
This list is not even complete, but for sake of time we limit the list to 5.
What is proven is that Uganda government institutions are a large producer of fake news. In case 1 & 2 it were the security forces that spread the fake news. Also the Lumbuye lies (case #3) were spread by the army. In case #4 it was the Electoral Commission that spread a fake Declaration of Results.
Fact check organisation Pesacheck, for unknown reasons, does not want to factcheck most of these lies. (only #5)