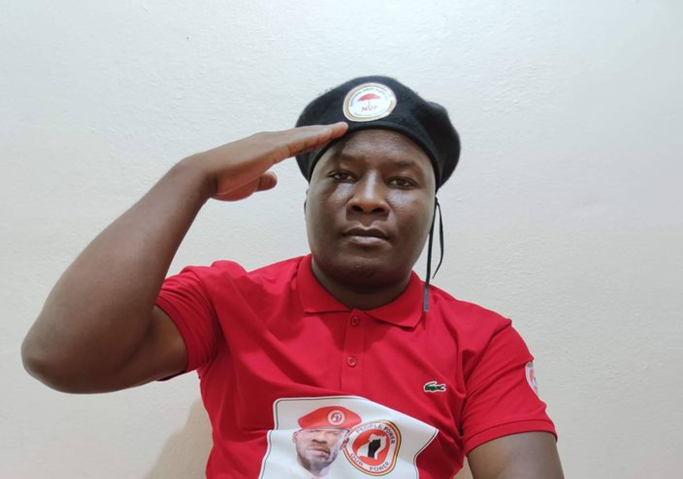 Fellow Ugandans you are aware of the fact that Fred Lumbuye Kajjubi a Ugandan political activist who lives in Turkey was kidnapped in Istanbul on the 3rd August 2021 at night by the Operative of dictator Museveni. It is alleged that Ambassador Mubiru Stephen, Richard Muhangi, (Allias Mc Richies), Andaman, Mohamed Nsereko, Baligye, and Museveni's family which does not even merit to be the first family had an upper hand in Lumbuye's kidnap and up to now, no one knows his whereabouts. Fred Lumbuye's life is in danger but the Ugandan Embassy will not be helpful at all to come to his rescue since they were also involved in his kidnap. The truth is Fred is in the hands of unlawful evil killers who control innocent voiceless oppressed Ugandans. Imagine what is happening to him now! Actually, Fred has done his best in his capacity to expose the Rwandese mafias to the entire world. I can emphatically say that, had it not been for our lovely brother Fred and other freedom fighters, to educate Ugandans how Museveni's system works, we would have been still in a living-dead state of the unknown.
Ugandans who LIVE in the diaspora I wish to remind you that you have a great role to play to end dictator Museveni's regime. I therefore earnestly beg you to be a pillar in fighting for our brother the freedom fighter Fred Lumbuye to be set free. I want to assure you that if Fred is free, all of us shall be free. So, if we do not fight tooth and nail to see that Lumbuye is free will result in Ugandans not being safe wherever we are. Do not be in your comfort zones and ignore Lumbuye's situation because what has happened to Lumbuye, will happen to any Ugandans who live in the diaspora. Lumbuye should not be extradited to Uganda because he never committed any offense but he is instead a political activist who wants to live in a free democratic Uganda. In line with the above, I wish to emphasize the point that, we Indigenous Ugandans have to wake up and claim for our country as Fred Lumbuye does since we are the first stakeholders in decision making as well as formulation of our structure to move forward
Museveni wants to kill Lumbuye Fred. By the way, what you should know is, that devil did NOT start killing yesterday. That non-Ugandan is as dangerous as a green snake in green grass. He has killed many innocent Ugandans especially those who want change in our country. That is even why I arguably say that Museveni and his group do not deserve an ounce of power in Uganda, and we need to do everything we can to make sure they get out of our country. It is so sad to see that we have a shithole in the chair of our country that is planning for the future of Uganda. Anyway, Ugandans let us not bow to intimidation and the fear Museveni is putting in Ugandans day and night. Unity is the greatest weapon we can use to overthrow dictator Museveni. Let us not ignore the fact that everyone is important according to their own unique purpose in the struggle to cease Museveni's dictatorial government. Having Museveni as a president after ruling for 35 years, my brothers and sisters that period he has stayed in power is not a sign of progress. It is rather a sign of grotesque inequality that paves the way to continue working with his cronies to deny Ugandans our democracy as it is in the case of kidnapping our brother Lumbuye Fred. My compatriots, it is of utmost urgency, to continue fighting wherever we are, in any form possible because it is our mandate as Ugandans to fight for the future of our country. If we do not do so, Museveni will continue pursuing his interest ruthlessly and for sure he will hunt all the people opposing him in the diaspora.
It's frustrating to see that the NRM Party has become nothing but a deranged cult of the Rwandese Man Museveni. All his used idiots and party supporters don't believe that Museveni has ruined Uganda and that he has never respected the rule of law. Ugandans are facing terrifying and devastating moments because we are being ruled by a non-Ugandan who does not care for our country. When people like Lumbuye Fred and other political activists who have Uganda at heart come out to elaborate on that fact it is considered a crime. The situation in our country is in form of "life or death", with millions of Ugandans facing a food crisis, lack of clean water, medicine, insecurity, jobless, generally living through repeated trauma because of the foreigners from Rwanda who are ruling our country. What really hurts is that these Rwandese came from their country, (Rwanda) as refugees with absolutely nothing. But the way Uganda looks now shows that they intended to make our Nation a family business from which they get money to repatriate the profits to Rwanda to develop their country of origin. These are the very issues our brother Fred Lumbuye has been talking about.
It is as clear as crystal that death has no timetable and also that everyone is a potential candidate to death. However, it does not mean that Museveni has the right to kill every Ugandan he does not want to work with or every Ugandan who refuses to accept his stupid outdated useless ideas and policies. It should be known that Fred Lumbuye was contacted on several occasions to be given money so that he could keep silent. But because of love for his country, he refused to rub shoulders with the rotten expired Museveni's government. My country mates, Museveni is so scared to leave power. That is why he is killing, kidnapping, and also buying Ugandans who do not have their country at heart to help Museveni pursue his ideologies, which are based on his games of divide and rule, exploiting Uganda's economy and resources for Rwandese development where he originates from
Museveni is incredibly a very narrow-minded creature. He talks about the future basing on his perpetual lies and when he is asked about the present he always avoids such questions but instead he goes into the past to refer to Amin and Obote yet he, himself was the problem to those governments because all the killings and the atrocities which were committed when both; Amin and Obote were ruling, were committed by Museveni with the intention of making the then ruling governments so bad that Ugandans could hate them. In doing so, Museveni was making an easy move to becoming the president of Uganda for life
In conclusion, People in Uganda are overwhelmed with confusion, disappointment, and angered by any inhuman actions done onto Ugandans both; inside and outside Uganda. On behalf of political activists, I humbly appeal to the Turkish government, UN, UNHCR, the European Union, and generally the international community to demand for the immediate and unconditional release of Fred Lumbuye Kajjubi because he is NOT a criminal.
WRITTEN BY,
FRANCIS KASIBANTE
FOR GOD AND MY COUNTRY.